Aval Nanachathu is an authentic kerala snack. Beaten rice flakes or 'aval'is a rich source of iron, and is easily available in the market.It is one of the easiest tea time sweet snack made of Beaten rice flakes /Aval coconut and jaggery.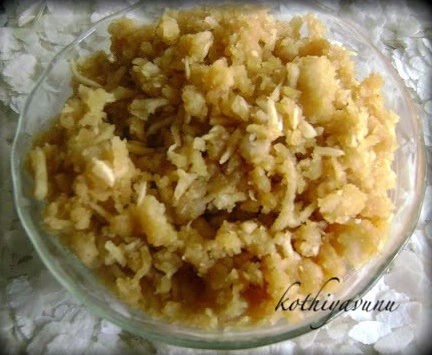 Aval Nanachathu Recipe | Sweetened Beaten Rice Flakes
Preparation Time : 5 mins
No Cooking needed
Serves : 4
Ingredients:

Aval /Poha /Beaten Rice Flakes : 3 cups
Grated Coconut : 1 cup
Grated Jaggery/Vellam or Sarkkara : 2 cups (or to taste)
Milk : 2 cups (warm)
Cardamom Powder : 1/2 tsp (optional)
How to make Aval Nanchathu | Sweetened Beaten Rice Flakes:
1. Mix the Aval /Poha /Beaten rice flakes with the jaggery until it has blended well.
2. Add the grated coconut and mix well. Add the warm milk, mix well using your hands, now add the cardamom powder; combine well and leave aside for 10-15 mins before serving…Serve and enjoy!
<!– kothiyavunu_main_AdSense1_728x90_as

(adsbygoogle = window.adsbygoogle || []).push({});

Click here for more Snack recipes
Cheers!
Sangeetha
–>