Bored of the regular, Chocolate, Strawberry, Mango milk shakes?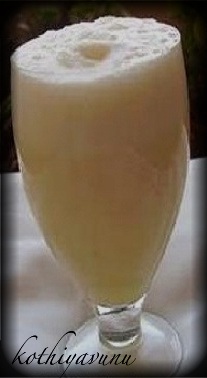 Then try this exotic and tropical, plus healthy shake.Sapodilla or Sapota or chikoo, a delicious tropical fruit is rich in vitamins and minerals.This is all time favorite of both grown ups and children. Combination of banana and chikoo makes wonderful delicious milkshake.Whip this yummy milkshake up in a matter of minutes – your family and guests will love it!
Sapota Milk Shake Recipe | Sapodilla – Sapota – Chikoo Banana Milk Shake Recipe


Ingredient:
Chickoo : 2 nos
Banana :1/2 piece
Coco Powder : 1/2 tsp
Milk : 1 cup
Cashew : 5 nos
Condensed Milk :2 tsp
Sugar/Honey as required
Ice cream for top up : 2 scoop (optional)


How to make Sapodilla – Sapota – Chikoo Milkshake :
1. Remove the seeds from chickoo, put in a blender, add banana chunks, coco powder, enough sugar/honey, little milk and blend well till it become a paste consistency.
2. Pour rest of the milk and add condensed milk, cashews and 1 scoop ice cream…Top up with ice cream and enjoy!
For more beverages recipe click here
Cheers!
Sangeetha