We all love Strawberry Milkshake right?  Strawberries are loaded with Vitamin C and antioxidants and taste so delicious.When I first taught my girls how to make milkshake, they were amazed how easy it is. Now they do it all by themselves and this is one of their favorite milkshake.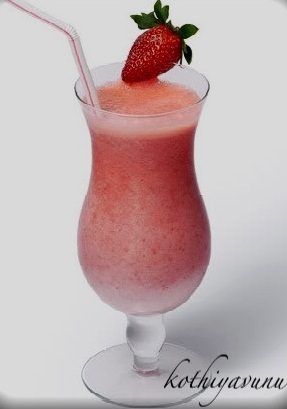 The key is to use perfectly ripe strawberries they will give your milkshake the sweetest flavor.Here u go sumptuous and filling milkshake made with love…Enjoy!
Have you Tried these Milkshake?
Strawberry Milkshake Recipe – How to Make Homemade Strawberry Milkshake
Strawberry Milkshake Recipe
Creamy and incredibly delicious Strawberry Milkshake. Made out of fresh strawberries and strawberry ice cream, blended with milk, sugar and ice.
Recipe type:
Dessert, Beverages
Cuisine:
Around the World
Ingredients :
Strawberries : 15 nos or ½ cup (hulled and sliced)
Milk : ¼ cup
Strawberry or Vanilla Ice cream : ½ cup
Strawberry or Vanilla extract : 1 tsp (optional)
Sugar/Honey :1-2 tsp
Ice cubes : handfull
How to Make :
In a blender, add strawberries,vanilla extract, ice cream, ice cubes milk and sugar/honey.
Blend until smooth...Pour into glass and enjoy.
Notes
To make this a bit lighter and slightly healthier, use frozen strawberry or vanilla yogurt instead of ice cream. The shake won't be as thick so use less milk to start.
Do try this Strawberry Milkshake and  Let me know if you have any thoughts! 🙂
Have a good one!
Sangeetha
Like this Recipe? Sign up, and get more recipes delivered directly to your inbox.