Ada Dosa is a type of pancake /dosa usually served at breakfast and it is very nutritious. It is made with 4 types of lentils – Bengal gram/Chana dhal, Yellow Pigeon Pea/Toor dhal, Whole Green Gram/Moong Dhal, Rice along with chillies, ginger, curry leaves.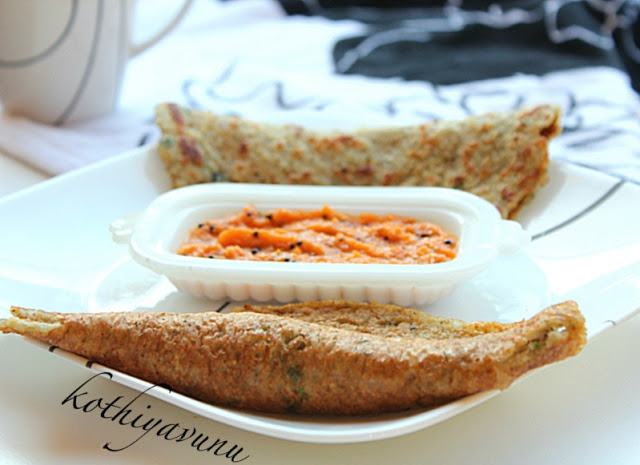 Comparatively quicker dosa than normal dosas, No need to ferment this batter out side. You can use immediately after grinding. This dosa is one of my amma's stable breakfast and I grew up eating this though its not my favorite. I have been craving it lately. So I decided to make it and here you go…
Recipe for Ada Dosa /Adai /Lentil & Rice Pancakes
Preparation Time : 4 hrs
Cooking Time : 10 minutes
Serves : 4

Ingredients:
Rice : 1 cup
Whole Green Gram /Moong dhal 1/4cup
Bengal Gram /Channa daal : 1/4 cup
Yellow Pigeon Pea /Toor daal : 1/4 cup
Black Lentil /Urad dhal : 1/4 cup
Fenugreek seeds /methi seeds : 1/2 tsp
Whole Black Pepper Corns : 1/4 tsp
Onion : 1/2 small (finely chopped)
Ginger : 1/2″ piece
Green Chili : 1-2 nos
Dry red chillies : 4-6
Cilantro Leaves : 5 sprigs
Curry Leaves : 1 sprig
Asafoetida /Hing : 1 pinch
Salt to taste
Oil for pan frying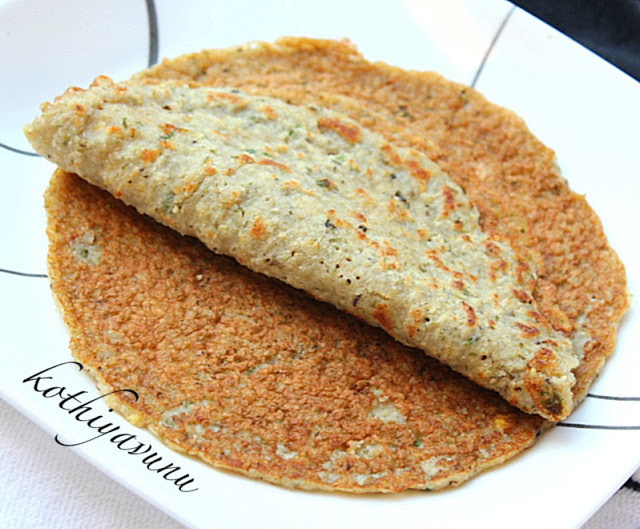 Method of Preparation:
1. Wash & clean the dhals and rice Soak the rice and the dals separately for 4hrs.
2. In a blender grind rice, green chillies & curry leaves ,ginger together to form a paste.
3. Now add the dhals, red chilles and pluse a few times. The chillies and dals must be ground only coarsely. (Note : The batter should be medium thick, not as thick as idli batter or it will be difficult to spread.)
4. Add the chopped onions, asafoetida, curry leaves and salt and mix well. (Note : For mixing the batter your hand is the best choice.)5. Heat a skillet/tava on medium to high heat.
6. Heat a couple of drops of oil, once it is hot, with a flat-bottomed ladle, pour a scoop of batter in the center of the griddle.
7. Spread the batter evenly, drizzle oil sparingly on the Adai and allow it to cook for a couple of minutes.
8. Flip the adai to the other side. It should be golden-brown in color.
9. Cook for another couple of minutes and serve immediately with a blob of butter or Chutney or Idli Mulaku Podi.
Notes :
Always wash thoroughly the dhal & rice,even small amount of dirt could spoil your adai dosa .
It is better to keep a skillet/tava exclusively for making ada dosa ,other wise if you use tava in which chapattis are made, the the ada dosa will stick on to the pan, so if you are using the same tava, first apply 2 or 3 drops oil after the tava heating up ,sprinkle salt & rub the tava with cut portion of onion & dust the pan for any traces of salt and then pour the batter. Now your ada dosa will not stick to the pan .
Click here for more Dosa recipes.
Happy Cooking!
Sangeetha