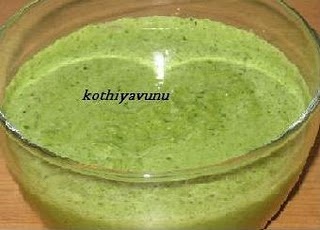 Avocado Chutney Recipe


Ingredients :
Avocado scooped : 1/2 of a big one (not so ripe)
Grated coconut :1cup
Shallots /Small Red Onion: 2 nos
Pepper Powder : a pinch (optional)
Garlic : 2 pods (crushed)
Green chillies : 4-5 or as per your taste
Salt to taste
Lemon juice : 1 tsp (Optional)
Cilantro /Coriander leaves : 1 large bunch
Water as required
Oil : 1 tbsp


How to make Avocado Chutney :
1. Scoop out the fleah with a spoon or chop it into small pieces.
2. Heat oil in a pan, add chopped avocado, onions, grated coconut and green chillies. Sauté till they the onions turn translucent.
3. Grind this in a blender along with chopped cilantro, crushed garlic, pepper powder, lemon juice, salt and a little water to make a thick paste. Serve with dosa, idly or roti and enjoy!
Notes :
This chutney is not good for storing as avocados turn black as it stands.To prevent this darkening of avocados for sometime,drizzle it with lime/lemon juice.
Good Day All!
Sangeetha