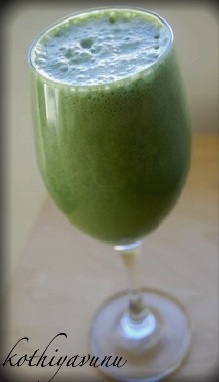 Avocado Milk Shake Recipe


Ingredients :
Avocado fruit (ripe) : 1 big
Milk (chilled) : 11/2 cup
Vanilla essence : 1/2 tsp
Sugar : 1/2 cup or to taste
Cardamom (crushed) : 1-2 Pinch
Nuts : 1 tbsp
How to make Avocado Milk Shake :
1. Cut the avocado and remove the pulp using spoon.
2. Blend the pulp along 1/2 cup water ,it turns to be thick creamy paste.
3. Add sugar, milk and vanilla essence,crushed cardamom and blend until smooth paste.
4. Check the taste add anything if needed, if you want the shake to be more thin add some more milk.
5. At last add the nuts and run the blender to just crush the nuts so that you get the crushed nuts in between the milkshake.Yummy Avocado milkshake is ready!…Serve and enjoy!
For more Beverages recipes click here
Cheers!
Sangeetha