Banana Walnut Cake! Just by following a few simple steps, you will be on your way to bake simple and easy yummy Banana Bread.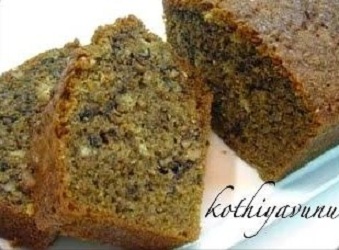 Banana Walnut Bread – Banana Bread Recipe
Ingredients:
All Purpose Flour /Maida : 2 cups
Ripe Bananas : 3-4 nos (medium,mashed)
Butter : 1/2 cup (melted)
Egg : 2 (medium, well beaten)
Brown Sugar : 3/4-1cup or according to your taste
Baking Soda : 1 tsp
Salt : 1/4 tsp
Vanilla Extract : 3-4 drops
Pecans or Walnuts : 1/2 cup (chopped)

How to make Banana Bread – Banana Walnut Bread :
1. Grease and flour a loaf pan; then set it aside and preheat oven to 350 degrees F.
2. Prepare the bananas by peeling and mashing them with a fork. Set the mashed bananas aside.
3. In a large bowl, cream together butter and white sugar.
4. In a separate bowl, combine all purpose flour, baking soda and salt together with the hand blender or wooden spoon make sure there are no lumps.
5. Stir in eggs, vanilla extract(optional) and mashed bananas until well blended then toss in the walnuts. Stir banana mixture into flour mixture; stir just to moisten.
6. Pour batter into a greased bread loaf pan and smooth out the top with a spoon.
7. Place the loaf pan in the middle rack of the oven and bake at 350 degree F for 55-60 minutes until a toothpick inserted into center of the loaf comes out clean.
8. When the bread is done, allow it to cool 10 minutes in the loaf pan; then, remove the bread from the pan and allow it to cool completely on a wire rack. Serve and enjoy with cup of tea!

(adsbygoogle = window.adsbygoogle || []).push({});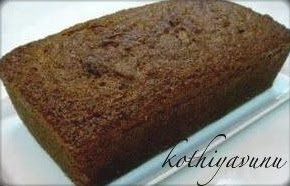 Click here for more Cake recipes
Happy Baking!
Sangeetha