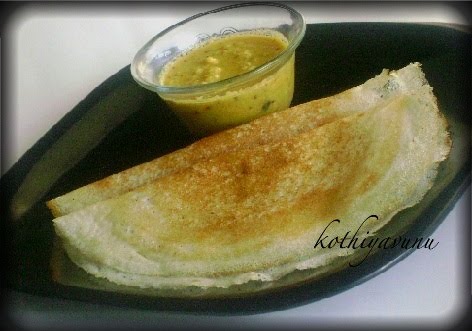 Dosa – Dosha Recipe – South Indian Breakfast | Indian Style Rice Crepes
Ingredients :

(With this measurement you can prepare only dosa.)

Raw Rice /Pachari : 1 1/2 cup
Parboiled Rice/Idly Rice : 1 1/2 cup
Beaten Rice /Aval /Poha : 3/4 cup
Black gram /Urad dal /Uzhunnu Paripuu : 1 cup
Fenugreek seeds /Uluva :1 tsp
Salt to taste
Oil for frying
How to make Dosa Batter :
1. Separately soak rice and urad dal along with fenugreek seeds/uluva at least 6 hour or overnight in water.
2. First grind the soaked urad dal, fenugreek seeds in the grinder to a smooth paste, adding water little by little. Transfer this into big container.
3. Now grind the soaked rice adding water; when it is half way done, add the aval ( soaked for a minute ).
4. Add the grounded rice batter to the urad dal batter in the vessel. Mix it well with hands.
5. Add salt to it and mix well (Note : The batter should be consistent enough to stick to a spoon when dipped.)
6. Cover and keep it aside for 8-10 hrs or overnight for fermentation.
How to make Dosa -Dosha – South Indian Breakfast :
7. Heat a flat tava/griddle/dosa kallu and grease it with a teaspoon of oil.
8. Pour a laddle full of dosa batter in the center and spread with back of laddle to a thin round.
9. Pour a tsp of ghee or oil over it, when it turns light golden brown, turn over to other side and remove with spatula when crisp.
8. Serve hot with Coconut Chutney or Sambar and Enjoy!
Notes :
The rate of fermentation depends on the temperature of the surrounding. I usually keep it in the oven ( unheated, switched off and oven light on) You may also leave it near the stove.
Store the batter in a large container which gives it room to ferment and rise up.
The batter can be kept in fridge and used for about 4-5 days. If the batter is refridgerated, keep it outside for 20 mins before using.
Cut onion may be used to wipe surface of griddle if batter is inclined to catch or stick to it.
If you are living in cold country add a pinch of baking soda to the batter and then place the batter bowl inside the oven so that it ferments well.
For more Dosa Recipes click here
Happy Cooking!
Sangeetha