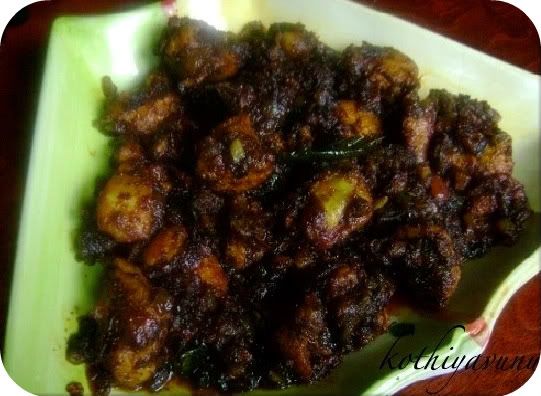 Kozhi /Chicken Roast Recipe
Ingredients:
To Marinate :
Chicken /Kozhi : 1/2 kg /1.1 lb (cut into small pieces)
Gram masala powder : 2 tsp
Black Pepper powder /Kurumulaku podi : 1 tsp (freshly grounded)
Turmeric powder /Manjal podi : 1/4 tsp
Salt to taste
For Sauteing :
Small Red Onions /Shallots : 2 cups (thinly sliced)
Green Chillies : 4 nos (finely chopped)
Ginger : 2 tbsp (finely chopped)
Garlic : 2 tbsp (finely chopped)
Curry leaves : 1 sprig
Salt to taste
How to make Chicken Roast :
1. Wash and clean the chicken with little turmeric powder and cut into small bite size pieces.
2. Marinate the chicken with above mentioned marinating ingredients for half an hour.
3. Heat oil in the large pan, saute chopped shallots until they turn to golden brown color.
4. Add green chillies, chopped ginger,garlic and curry leaves and saute for few minutes until they turn soft.
5. Add marinated chicken and add 1/4 cup water; cook in high flame for 10 -15 mins or till the chicken is done.
6. Reduce to medium flame bring to boil, sprinkle the 1/2 tsp gram masala and cook for another 15-20 mins; keep stirring until the gravy is well coated with chicken and completely dry.
7. Serve hot as side dish with steamed rice or with Indian Breads and enjoy!
(adsbygoogle = window.adsbygoogle || []).push({});
Click here for more Chicken recipes
Cheers!
Sangeetha