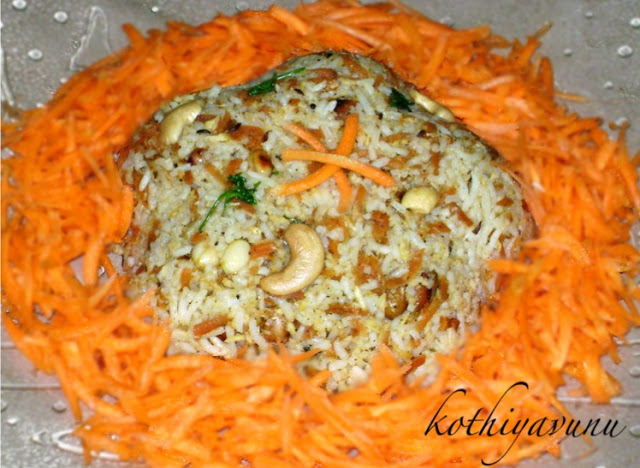 Carrot Rice Recipe | Carrot Sadam Recipe


Ingredients:
Basmati rice or Any variate of rice : 1 cup
Grated Carrot : 1 cup
Onion : 1/2 (chopped)
Grated Coconut : 1/2 cup
Green Chilly : 3 nos
Garlic : 4 pods
Ginger : small piece
Cumin seeds : 1/2 tsp
Red Chilly powder : 1/4 tsp
Bay Leaf : 1
Cardamom : 4 nos
Cloves : 4 nos
Cinnamon Stick : 1/2 inch stick broken into two
Curry Leaves : 1 sprig
Garam Masala : 1/2 tsp
Vegetable Oil /Ghee : 2 tbsp
Lime juice : 1 tsp(optional)
Salt to taste
Broken cashew nuts : 10-15nos
Cilantro : handful (chopped)


How to make Carrot Rice | Carrot Sadham :
1. Wash and soak the basmati rice for 10-15 minutes.
2. Heat a pan with ghee,add bayleaves,2 cardamom,2 cloves, 1 cinnamon stick and saute for a minute.
3. Add drained rice and stir continuously for 2-3 mins in a low flame.When its done, add water and cook till rice is done yet firm. If your cooking rice in pressure cooker,cook for 1 whistle and once pressure settles, spread out the rice on a plate and let it cool without clumping.(Note : Once the basmati rice is cooked, you can remove the spices if you want to, else keep it. I prefer to remove them)
4. Meanwhile grind ginger,garlic & green chillies to fine paste and keep it aside.
5. Again heat little ghee in pan, add the cumin seeds, remaining spices (cinnamon cloves and cardamom)
6. Add chopped onions and ginger-garlic-green chilli paste and fry till light golden colour, add cashew nuts fry it for a min.
7. Add grated carrot and curry leaves,Saute for a while then chilly powder and salt
8. Once the carrot is done add grated coconut, garam masala, chopped cilantro and saute for a minute.
9. Finally add the cooked rice; adjust the salt, now add lemon juice and mix it gently. Serve with raita and enjoy!
Check here for more Rice recipes.
Cheers!
Sangeetha