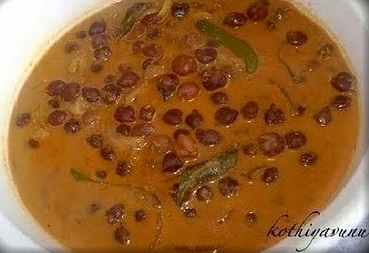 Kadala Curry Recipe /Black Chickpea Curry Recipe


Serves : 4-6
Ingredients :
Black Chickpea /Kala Chana /Kadala : 2 cup (cooked) (soak the dried chana in enough water for at least 8 hrs)
Onions : 1 cup (sliced)
Turmeric powder : 1/2 tsp
Grated coconut : 1 cup (fresh/frozen)
Red chilli powder : 1 tsp
Coriander powder : 1/2 tsp
Whole pepper corn : 10 nos
Garlic: 2 cloves
Salt to taste
Coconut Oil : 1/4 tsp
To Temper:
Oil (perferably coconut oil) : 1 tsp
Mustard seeds :1/4 tsp
Curry leaves :1 sprig
Dry red chilly : 1 broken into 2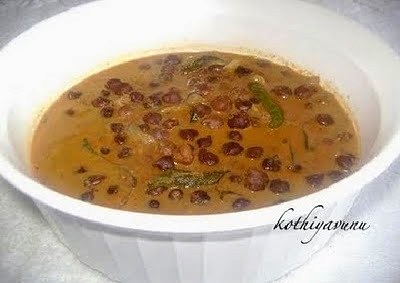 Method of Preparation:
1. Soak kadala over night and pressure cook the kadala with adding enough water, little turmeric powder and salt for 5-6 whistles. Open when the pressure releases and set it aside.
2. Heat little coconut oil in a pan, add grated coconut; saute and roast on low fire till coconut turns to medium brown in color.
3. Add black pepper corn, garlic, curry leaves saute for a minute and add turmeric, red chili,coriander powders and fry on low heat till brown and remove from the fire, let it cool.
4. Transfer the roasted coconut masala to a blender and grind the ingredients to a smooth paste with litlle water.
5. To a big deep pan, add sliced onion and saute till it turns to translucent and now add cooked kadala with the stock from the cooked kadala, green chili, curry leaves.
6. Now add the ground coconut masala paste to the kadala with enough water to make a semi thick gravy, bring to a boil and adjust salt to taste.
7. Heat coconut oil in a pan, add mustard seeds when its splutters,add curry leaves & dry red chillies, Pour this seasoning on the curry and mix in.
8. Serve hot with Puttu or Appam & Enjoy!
Click here for more Breakfast recipes.
Happy Cooking!
Sangeetha