Fish plays a major role in the daily food preparation of an average non vegetarian Kerala family. Fresh Fish simmered in spices,cooked in different kind of coconut bases and the description goes on….Among the many varieties, this is one which is served in Toddy Shop in Kerala (a state in India). Its also called as Shappile Meen Curry.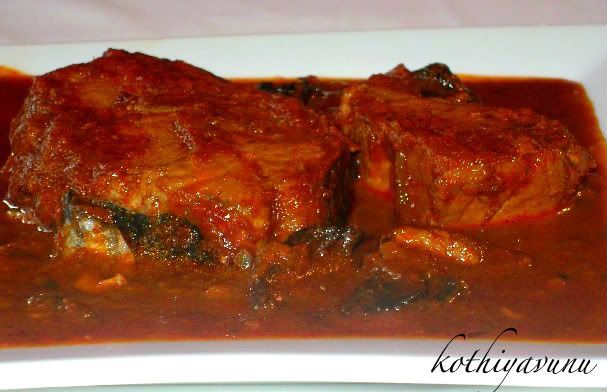 Steamed and mashed Tapioca flavored with turmeric served along with spicy Fish Curry is hot favorite among Malayalees..The spicy, sour and intense flavor of this curry is highly pleasing for the palate.The curry tastes best the day after it is prepared ,and even better the following days. So don't miss to try this Toddy Shop Fish Curry, the quintessential Kerala Fish Curry! Enjoy!
Recipe for Meen Mulakittathu /Spicy Red Fish Curry /Kallushap Style Meen Curry/Toddy Shop Fish Curry/Shappile Meen Curry
Preparation Time : 20 minutes
Cooking Time : 20 minutes
Serves : 4
Ingredients:
Seer fish ( Ney meen) /King fish (Aiykoora) : 1/2 kg /1.1lb
Small Red Onion /Shallots : 5-8 nos (thinly sliced)
Fenugreek Seeds : 1/4 tsp
Green Chillies : 3-4 nos
Kukum Star : 2-3 pieces
Curry Leaves : 2 sprig
Coconut Oil : 2 tbsp
Small Red Onion /Shallots : 10
Fennel Seeds Powder :1/2 tsp
Red Chilly Powder : 2 tbsp
How to make Meen Mulakittathu /Spicy Red Fish Curry /Kallushap Style Meen Curry :
1. Clean and cut the fish into pieces. Soak the kukam star/kudam puli in 1/4 cup water.
2. In blender grind the ingredients mentioned above "To Grind" to fine paste and keep it aside.
3. Heat oil in the pan when its hot, add fenugreek seed, sliced small onions and sauté for few minutes and curry leaves and sauté well till onions turns to golden brown.
4. Add grounded red chilli paste, sauté on low fire till oil separates from the sides.
5. Add soaked kudam puli with its water and pour enough water to cover all fish pieces and add salt, bring to boil.
6. When its done add the fish pieces and cover and cook in the medium heat,once the fish is cooked reduce the fire to lower flame and cook until the gravy thickens. (Note : Don't stir after the fish is cooked)
7. Sprinkle coconut oil and the curry leaves to fish curry.Turn off the stove and keep the curry covered, let the flavor set.
8. Serve hot with steamed rice /Kappa puzhukku and enjoy!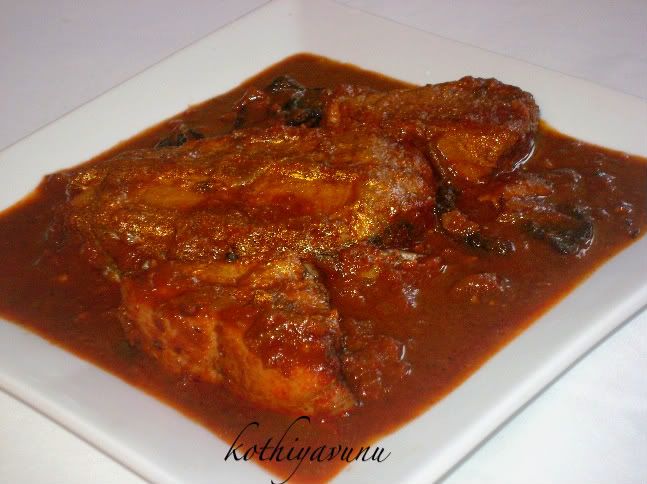 Notes :
Prepare the curry overnight and serve in the morning. It tastes Yummy!
Happy Cooking!
Sangeetha