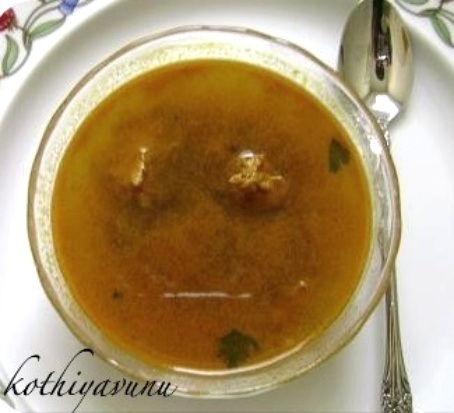 Nadan Mutton Soup – Kerala Style Lamb/Goat Soup Recipe
Ingredients:
Mutton Bone Pieces : 150 grms
Fennel Seeds : 1/2 tsp
Cumin Seeds : 1/2 tsp
Onion : 2 medium, (finely chopped)
Tomato : 1 small (finely chopped)
Red Chilli Powder : 1/2 tsp
Turmeric Powder : 1/4 tsp
Black Pepper Powder : 1/2 tsp
Garam masala Powder : 1/2 tsp
Ginger-Garlic Paste : 1 tsp
Coconut Oil : 3 tbsp
Salt for taste
How to Nadan Mutton Soup – Kerala Style Lamb-Goat Soup :
1. Heat coconut oil in pan (preferably kalchatti), add fennel seeds, cumin seeds, chopped onion, chopped tomato and saute well.
2. Add all spices powders ginger- garlic paste, salt and sauté for 3-5 mins.
3. Add the mutton bone pieces and add 8 cups (2 ltrs) of water, and boil on low heat for 1-2 hrs.
4. When the water evaporates and becomes 4 cups of water, remove from heat.
5. Sieve and place in another bowl…Serve hot & enjoy!
Click here for more Soup Recipes
Happy Cooking!
Sangeetha