Banana Halwa /Nenthra Pazham Halwa/Haluva is one of most relished Kerala dish. As it is clear by its name, banana is the star ingredient of this recipe. Extremely scrumptious and very easy to make, Let me share my mother's special Banana Halwa recpie..Do try and Enjoy!!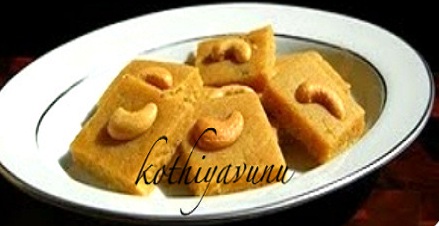 Nenthra Pazham Halwa Recipe | Pazham Halwa Recipe | Banana Halwa Recipe
Preparation Time : 10 minutes

Cooking time : 10 minutes

Serves : 4
Ingredients :
Ripe Banana /Nenthra Pazham : 3
Whole milk :11/2 cup
Sugar : 2 cups
Water : 1/2 cup
Ghee : 3/4 cup
Cashewnut : 10-15 (chopped, optional)
Cardamom powder : 1/4 tsp
All purpose flour : 3 tsp
Cashews : handful (for garnishing)
How to Make Nenthra Pazham Halwa Recipe | Banana Halwa Recipe :
1. Cut plantains /Nenthra pazham into 3-4 pieces and place them in a steamer and steam till banana is well cooked or pressure cook the bananas until soft or you can microwave the banana, place in microwave safe plate and cook till cooked.
2. Remove the outer skin and de-seed; remove the black layer inside and mash the bananas to a paste in a food processor or blender.
3. In a heavy bottom pan add sugar to milk and boil, cook to thick consistency, let the sugar dissolve completely.
4. When this consistency is reached ,add the mashed banana and cook till all the milk is used up.
5. To thicken the halwa, at this stage, add the flour dissolved in 1/4 cup of water.
6. Stir continuously while the mixture bubbles and goes from creamish color to nice deep golden color.
7. Add ghee little by little,and cook till halwa is leaving the sides of the pan and has browned in color.
8. Add the cardamom powder, chopped cashewnut (optional) and combine well. (Note : To know if done, pour a drop on a plate allow to cool and roll between fingers if it is fine then the halwa is done)
9. Grease the plate with ghee and spread the banana halwa on the plate.
10. Cut into desired shape and garnish with cashew nut. Serve when cool and Enjoy!


Related Posts :

Happy Cooking!
Sangeetha