Rava Kesari -Kesari Bath -Sooji Ka Halwa is a dessert/sweet that is popular throughout India. It goes by different names in North Indian it's called Sheera or Suji/Sooji ka halwa and in South India it's called Rava Kesari or Kesari Bath. Whatever be the name recipe is almost the same. It's made using semolina-farina or cream of wheat, sugar, ghee, water and milk.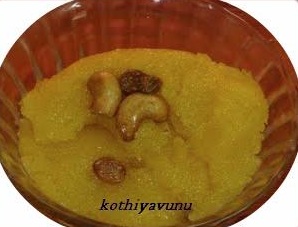 The difference between sheera-sooji halwa and rava kesari is the color.  The word kesari refers to the orangish color, food color is added while making, whereas sheera-sooji ka halwa made much simpler with no color and little or no ghee.  It can also be made with fruits like pineapple or mango. It's specially made during festive season or special occasions. Today I'm sharing the South Indian traditional kesari. In this recipe I have not added orange food color instead I have added safforn/kesar. I always recommend to skip the food color and add safforn-kesar. Saffron will give yellow tones and not orange but it gives a nice flavor to the kesari. If you prefer kesari to be in traditional orange color, then add orange food color. Enjoy!
Other Sweets recipes You Might Like :
Banana Halwa -Nenthra Pazham Halwa
How to Make Homemade Rava Kesari -Sooji Ka Halwa -Kesari Bath
Rava Kesari -Kesari Bath -Sooji Ka Halwa Recipe
Indian Dessert-Sweet very easy to make and taste delicious, made with semolina, ghee, dry fruits and saffron.
Recipe type:
Dessert, Sweet
Ingredients :
Semolina /Sooji /Rava :1 cup
Sugar : 1 cup
Water : ½ cup
Ghee : 3 tbsp
Rose or Pineapple essence : 2 drops (optional)
Cardamom : 4 pods
Cashew : 10 nos
Raisins : 5 nos
Kesar-Safforn/Artificial food color : 1 pinch
How to Make :
Dry roast the rava in a pan for a minute on low flame until they turn to light brown in color.
In a medium deep vessel, dissolve sugar, water and saffron. keep on flame and allow it to come to a boil.
Add the roasted rava reduce the flame to low; keep stirring so that no lumps are formed.
Keep stirring and cook it for 2-3 mins, when rava is cooked, add rose or pineapple essence and cook it for another mintue untill it forms to solid consistency.
Heat the ghee in a pan, add the cashews, roast till it gets brown in color.Turn off the flame and add the raisins.
Garnish the dish with roasted cashews,raisins and crushed cardamons...Serve and enjoy!
If you haven't tried this Rava Kesari yet, give it a try.I'm sure you will love it!
Cheers!
Sangeetha
Like this Recipe? Sign up, and get more recipes delivered directly to your inbox.