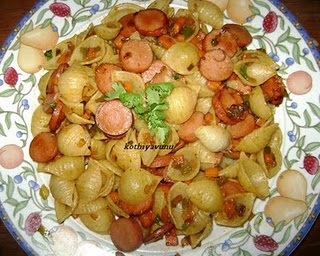 Sausage Macaroni Recipe :
Preparation Time : 15 mins
Cooking Time : 15 mins
Serves : 4
Ingredients :
Macaroni Pasta : 2 cups (cooked)
Sausage : 5 nos
Onion : 1/4 cup (finely chopped)
Carrot : 1 /2 cup (finely chopped)
Capsicum/Bell pepper : 1/2 (sliced)
Green Chilli : 2 (chopped)
Black Pepper Powder : 1/2 tsp
Tomato Sauce or Ketchep : 4 tbsp
Soy Sauce : 2 tbsp (optional)
Fresh Basil Leaves : 1/4 tsp (finely, chopped)
Salt to taste
Olive oil : 2 tbsp
How to make Sausage Macaroni :
1. Cook pasta according to package (Or) Bring water to boil in a big pot filled to its half and add salt,and pasta. Cook over medium flame for 10-15 mins until al dente(cooked and tender).Make sure its not over cooked. Drain and reserve 1/4 cup of water/pasta stock for later usage and then rinse the pasta immediately by running it under cold water to remove the excess starch.(Note : This stops the cooking process and prevents the pasta from getting soggy.) Add a tsp of olive oil to the cooled pasta and keep aside.
2. Heat a large nonstick skillet over medium-high heat, add chopped onion, green chillies and saute for couple of mins.
3. Add sausage and saute till turns brown in color, when its done; add chopped carrot, sliced capsicum and salt to taste.
4. Add tomato sauce or ketchep and soy sauce and combine well. If required add 1/4 cup of reserved pasta stock liquid to get a medium sauce consistency.
5. Stir in cooked pasta; toss to coat. Adjust the salt and cook for a minutes or so.
6. Remove from heat. Sprinkle chopped basil leaves. Season with freshly ground pepper to taste.Serve immediately and enjoy!
Check here for more Pasta recipes.
Good Day All!
Sangeetha