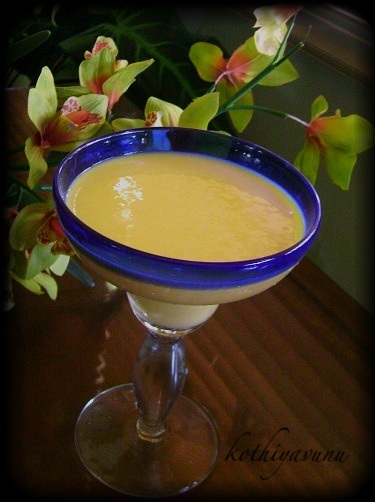 Recipe for Sweet Mango Lassi


Ingredients :
Plain/Vanilla yogurt : 1 cup
Ripe mango : 1 no (cubes or pulps).
Milk : 1/2 cup
Salt a pinch
Ice cubes crushed
Sugar/Honey/Any sweetener : 2 tbsp
Cardamom powder : 1/2 tsp (optional)


Method of Preparation:
1. Pour the yogurt,mangoes,sugar,salt,milk and cardamon powder into a blender.
2. Blend on a whip or mix setting for 2 minutes.
3. Pour over a glass of Ice.
4. Garnish with mint leaves and serve chilled.
Notes: Any remaining lassi can be stored in the refrigerator for up to 48 hours.
Click here for more beverages recipes
Cheers!
Sangeetha