Rasam is a South Indian soup.It is prepared with tamarind juice,tomato,pepper and other spices.It is eaten with steamed rice or alone as a soup.Rasam has spices and is considered to be a good for health and it is a quick and comforting sort of meal.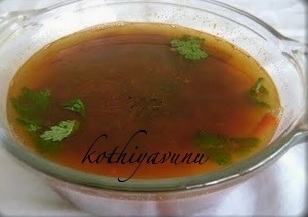 Rasam Recipe – Tomato Rasam Recipe – Tangy Tomato Soup Recipe
Ingredients :
Tomato /Thakali : 3 nos (chopped)
Tamarind /Puli : Small lemon size or 2 tsp pulp or to taste
Garlic : 2 pods (crushed)
Red Chilly Powder : 1 tsp
Turmeric powder : 1/4 tsp
Rasam Powder : 2 tsp
Mustard seeds : 1/4 tsp
Asafoetida powder/Kayam : 1/4 tsp
Black Pepper Powder : 1/2 tsp
Curry leaves : a sprig
Cliantro /Coriander leaves : Handful (chopped)
Salt to taste
Ghee/Oil /Ney
: 2 tbsp
Water : 2 cups
How to make Rasam – Tomato Rasam – Tangy Tomato Soup :
1. Soak tamarind in warm water for 10 min. and squeeze the juice with 1 cup of water, if you are using tamarind pulp then just dilute with 1 cup of water and keep it aside
2. Heat ghee/oil in a kadai,pop up the mustard seeds and add the dry red chillies and saute.
3. Add chopped tomato,crushed garlic and saute well.
4. Add turmeric,chilly,rasam powder and saute for 2 min.
5. Add curry leaves,coriander leaves and saute and now add tamarind water and 2 cup of water and salt to taste.
6. Keep it on low flame for 7-8 mins and bring it to a boil,remove from the fire.
7. Add more coriander leaves and sprinkle some pepper powder and asfoetida.
8. Close the kadai for few mins and serve with rice and pappad.
Notes :
Rasam powder is a mixture of coriander seeds, chilly powder, turmeric cumin powder, black pepper corns, fenugreek seeds, asafoetida and curry leaves . It is readily available. Instead of using Rasam powder, you can use a blend of the above powders,store in an air tight container. This will stay for 1-2 week with its aroma.
Happy Cooking!
Sangeetha