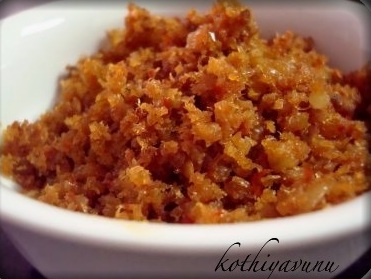 Recipe for Unakka Chemmeen Mulakittathu /Unakka Chemmeen Chathachathu /Crushed Dried Shrimp with Spices
Ingredients:
Unakka Chemmeen/ Dried Prawns /Shrimp : 1 cup
Small Red Onion/Shallots /Kunjulli : 1 cup (crushed)
Crushed Red Chilli /Chilli Flakes : 1 tbsp or to your spice tolerance
Curry Leaves : 2 sprigs
Coconut Oil : 3 tbsp
Salt for taste
Method of Preparation:
1. Clean & rinse the prawns in water, drain out all the excess water. Sprinkle salt with little water to cleaned prawns.
2. In a pan /kadai; preferably in 'manchatti' an earthen pot; add unakka chemmeen/dried prawn and saute for 2-4 mins till it turns to white color.
3. Push the fried chemmeen/dried prawns to side of the pan and make a well, pour enough coconut oil in the middle of the pan and again fry the prawns well.
4. Transfer the fried unakka cheemeen/dried prawns to another bowl, let it cool and lightly minced the dried prawns.
5. Heat the same pan on medium flame, pour coconut oil and add crushed small onions, curry leaves,crushed red chillies and saute well.
6. Add unakka chemmeen/dried prawns with it, reduce the flame to low and press the prawns on the top and cook for 2-3 mins, turn the prawns and cook well…Serve hot with rice or rice gruel /kanji & enjoy!
Check here for more Shrimp recipes.
Happy Cooking!
Sangeetha