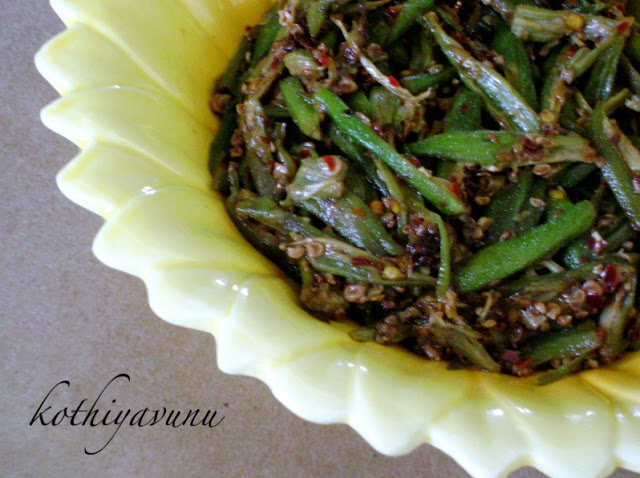 Vendakka Mezhukkupuratti – Upperi Recipe | Okra Stir Fry | Ladies Finger Stir Fry
Ingredients :
Tender Vendakka /Okra : 1/2kg /1.1lb (thinly sliced)
Green Chillies : 2-3 (slit) or to your tolerance level
Shallots/Pearl Onions/Small Red Onions : 10-15 (halved)
Turmeric Powder : 1/4 tsp
Red Chilli Powder /Red Chilli Flakes : 1/2 tsp
Mustard seeds : 1 tsp
Urad dal : 1 tsp (optional)
Curry leaves : 1 sprig
Oil :1 tbsp
Salt to taste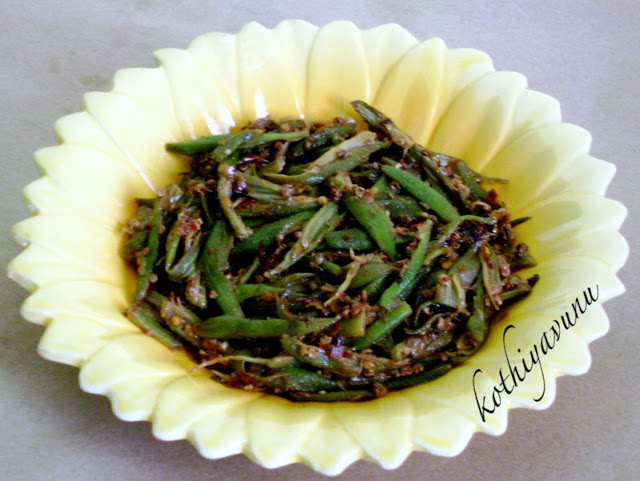 How to make Vendakka Mezhukkupuratti – Upperi | Okra Stir Fry – Kerala Style :
1. Wash the vendakka/okra and pat dry,then slice them thinly.
2. Heat oil in a fry pan and fry the okra for untill almost all the stickness disappears, remove and keep it aside.
3. In the same frying pan,heat oil and add mustard seeds,urad dal, when mustard starts to pop, add curry leaves and sliced onion. Saute the onions till light brown.
4. Add the sliced okra and green chillies, now add turmeric powder, red chilli powder and combine well cook for 3-4 mins. Do not cover the pan.
5. Add salt and stir well and cook until okra is cooked well…Serve hot with rice and Enjoy!
Check here for more Vegetarian Side Dishes.
Cheers!
Sangeetha