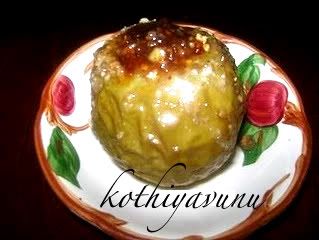 This recipe is adapted from catalinakolker. Thank you catalina for sharing the recipe.

Baked Apples Recipe


Ingredients :
Green or Red Apples : 3 nos
Nuts of your choice : 3 tbsp (I used cashew,walnut)
Butter : 11/2 tbsp cut in 3
Cinnamon powder : 1/2 tsp
Brown sugar : 2 tbsp
Honey, for the final drizzle
How to Make Baked Apples :
1. Wash the apples remove the core and peel in the middle as shown in the picture.
2. Preheat your oven to 375 degree and place them in the baking dish and set aside.
3. Toast the nuts lightly in a small skillet on the stove then put them on a chopping board and chop them finely.
4. In a bowl, add the nuts, brown sugar and cinnamon and toss to combine well.
5. Pour a spoon the mixture over the apples, top with butter and drizzle honey.
6. Bake for 35 to 45 minutes, until they soften. Serve and Enjoy warm!
Click here for more Dessert and Pudding
Happy Baking!
Sangeetha