Have you tried this simple, nutritious and tasty Beans Thoran? If not, well here you have it! This would be a perfect side dish for a weekday meals or dinner.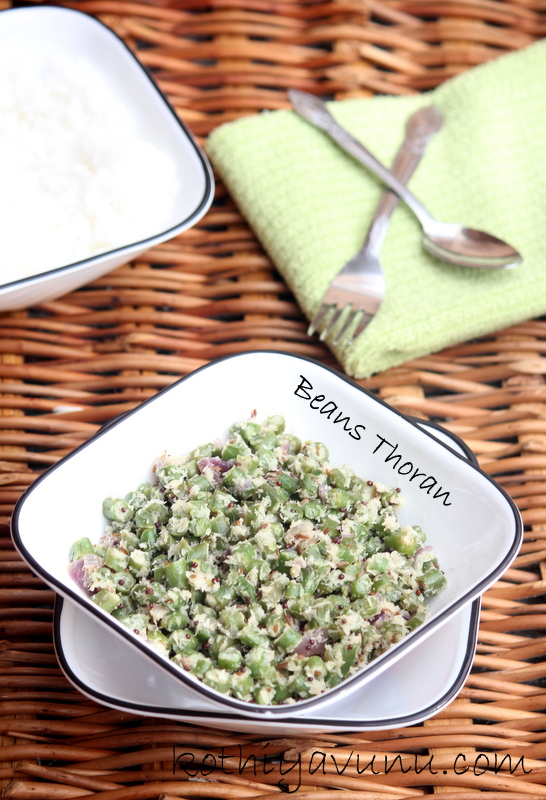 Beans Thoran Recipe / Beans Stir Fry Recipe/ Beans Poriyal Recipe


Ingredients :
Beans : 1/2 kg /1 lb (finely, chopped into thin pieces)
Shallots /Pearl onions : 5-7 (sliced)
Garlic : 5 pods (crushed)
Green Chillies : 2-3 (slit)
Mustard Seeds : 1 tsp
Grated Coconut : 1/2 cup
Turmeric powder : a pinch
Curry Leaves : a sprig
Salt to taste
Oil : 2 tbsp
How to make Beans Thoran /Beans Stir Fry /Beans Poriyal:
1. In a blender, blend coconut,turmeric powder, half of the chopped small onions and green chillies together.
2. Heat oil in a pan,add mustard seeds,when it starts to splutter.
3. Add chopped small onions and saute till turns to golden brown and translucent.
4. Add crushed garlic and curry leaves and saute for a minute.
5. Add chopped beans, ground coconut paste and salt to taste and mix thoroughly.
6. Cover the pan and reduce flame to low and cook for 10-15 mins, stirring occasionally.
7. Remove from the fire and serve with rice. Enjoy!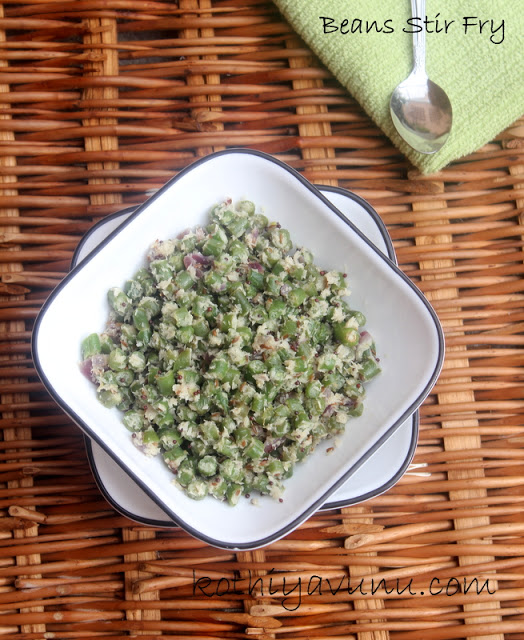 Notes :
For easy cooking one can add coconut, small onion, chilli directly to the beans without grinding.
For more Side Dishes Recipes click here
Now its award time
Thank u priya and Tersa for remembering and sharing award with me.It is a very pleasant movement for me and happy to receive this award from u girls…Thank u very much
I would like to share with all my Fellow Bloggers and wish you all the success in your Blogging world !
Happy Blogging!
Sangeetha