Baked Chicken Nuggets Anyone?
Crispy, tender, crunchy, bite sized pieces of chicken, coated in breadcrumbs and parmesan dunked in tangy honey mustard or ketchup sauce are absolutely delicious. They're freezer-friendly too! Bake them up, place in a resealable bag and freeze. Pop in the microwave for a few minutes to warm them up.  It's a knock-it-out-of-the-ballpark for both kids and adults. Enjoy!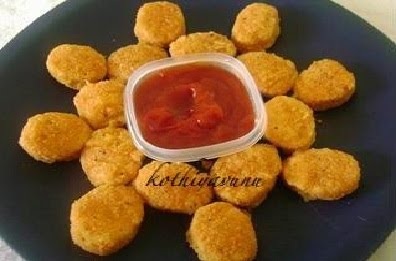 Breaded Chicken Nuggets Recipes | Baked Chicken Nuggets Recipes


Ingredients :
Skinless Boneless Chicken Breast : 1/2 kg /1.1 lb (Cut in to medium cubes)
All Purpose Flour : 3/4 cup
Parmesan Cheese : 4 tbsp
Ginger-Garlic Paste : 1 tsp
Soy Sauce : 1/2 tbs
Chilli Sauce : 1/2 tbs
Tomato Sauce : 1/2 tbs
Paprika or Red Chilli powder : 1/4 tsp
Turmeric Powder : 1/4 tsp
Cracked Black Pepper : 1/4 tsp
Salt to Taste
Oil for Deep Frying
Panko Bread Crumbs : 2/3 cup
Crushed Cornflakes : 2/3 cup
Milk : 3 tbsp
Egg : 1
How to make Breaded Chicken Nuggets –  Baked Chicken Nuggets :
1. Preheat oven to 450 degrees, while rinsing chicken and cutting it into bite-sized pieces.
2. Mix all purpose flour, parmesan cheese, ginger garlic paste,soy sauce,chilli sauce,tomato sauce,pepper powder,turmeric powder,paprika and together in a shallow bowl to a thick smooth paste and set aside.
3. Mix equal amounts of bread crumbs and crushed cornflakes. Keep aside.
4. Slightly beat egg into milk in a separate bowl; prepare baking sheet.
5. Piece by piece, dip chicken into spiced flour paste and then in egg mixture and then coat with the bread crumbs, crushed corn flake mixture.
6. Drizzle with a little butter, place onto baking sheet.
7. When oven is pre heated, place baking sheet with chicken into oven for about 10 minutes, after 10 minutes, take out chicken and turn each piece.
8. Place back into oven for additional 5 minutes. This ensures that both sides of the chicken are slightly crisp.
9. Remove chicken from oven and allow to cool. Enjoy with honey mustard or any kind of dipping sauce that you prefer.
Click here for more Chicken recipes
Happy Cooking!
Sangeetha