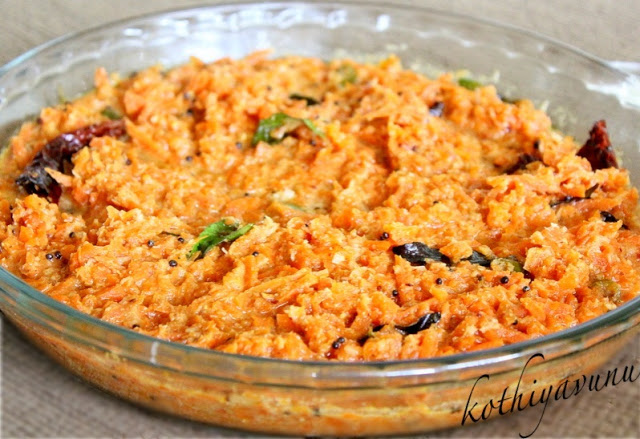 Recipe for Carrot Pachadi /Carrot in Yogurt Gravy


Ingredients :


Carrot : 4 (large)
Green chilly : 3-4 (chopped)
Grated Coconut : 1/2 cup
Curd : 1/2 cup
Mustard seeds : 1/2+1/2 = 1 tsp
Dry Red chilly : 2-3
Curry leaves : few
Oil : 2 tsp
Salt to taste
Method of Preparation:
1. Peel and grate the carrot.
2. Boil the grated carrot,chopped green chillies with little water and salt.
3. Grind coarsely the grated coconut, 1/2 tsp mustard seeds with the curd.
4. Add grounded coconut curd mixture into it and mix well.
5. Heat oil in a pan,add remaining 1/2 tsp mustard seeds when its starts to pop, add curry leaves,and dry chilly.
6. Pour the seasoning into carrot pachadi and mix thoroughly…Serve with rice and Enjoy!
Check here for more Gravies and Curries (Veg)
Happy Cooking!
Sangeetha