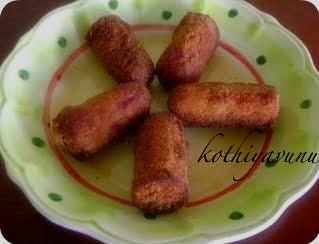 Recipe for Fried Chicken Sausage /Fried Hot Dog


Ingredients :

Chicken Franks /Sausages /Hot Dogs : 6 nos
Eggs : 2 nos
Black Pepper Powder : 1 tsp
Bread crumbs : 1 cup
Salt to taste
Oil for deep frying


Method of Preparation :
1. Cut each chicken franks/sausage into half.
2. Beat eggs along with salt and pepper and keep aside.
3 .Dip the sausage into beaten egg and roll the egg dipped sausage on the bread crumbs.
4. Heat the oil in a pan/kadai on hig flame, when oil is hot, reduce to flame to medium low and shallow fry the sausage.
5. Fried sausage is ready… Serve & Enjoy with cup of tea!
For more Starter recipe check here
Happy Cooking!
Sangeetha