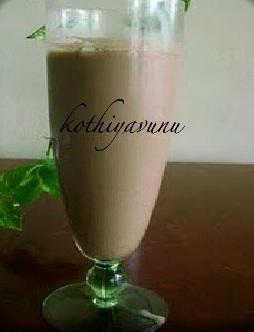 Cold Cocoa Coffee Recipe


Ingredients:
Cold Whole milk : 2 cups
Unsweetened Cocoa Powder/Drinking Chocolate : 1-2 tsp (i have used cocoa pd)
Instant Coffee Powder : 2-3 tsp
Sugar : 11/2 tbsp or to taste
Vanilla Essence : 2 drops
Crushed Ice : 1/2 cup
Whip Cream : 2tsp (optional)
Cinnamon Powder : a pinch
How to make Cold Cocoa Coffee :
1. Take a deep bowl or blender bowl,mix the cocoa,instant coffee powder,sugar,cold milk and mix well in bowl.
2. Blend the mix using a hand blender or any usual blender on the medium speed, well enough to get the froth on the top of the drink.
3. Add the crushed ice to your coffee and again give a quick blend for few second to mix it well.(You can also avoid this step if you want to add the ice in the glass itself and then pour the coffee over it.)
4. Add vanilla essence and cinnamon powder and mix well. Top it up with various topping of your choice.
5. I have topped up with whip cream.You can also add ice-cream…Serve chilled.
For more Beverages recipes click here
Cheers!
Sangeetha