Egg Paratha is a fantastic simple Breakfast, Brunch, Lunch or for snack which will keep you asking for more. It is yummy and delicious!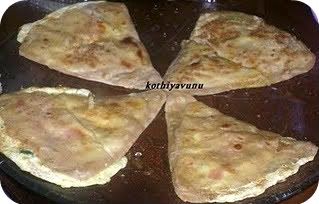 Egg Paratha-Mutta-Anda Paratha | Indian Flat Bread stuffed with Egg

Ingredients:
Basic Chapathi /Paratha Dough (To make Chapathi Dough follow instructions here)
Eggs : 1 for 2 parthas
Tomatoes : 1 no (small, finely chopped)
Onions : 1 (small, finely chopped)
Cilantro : as required (finely chopped)
Green Chilies : 2 nos (finely chopped)
Salt to taste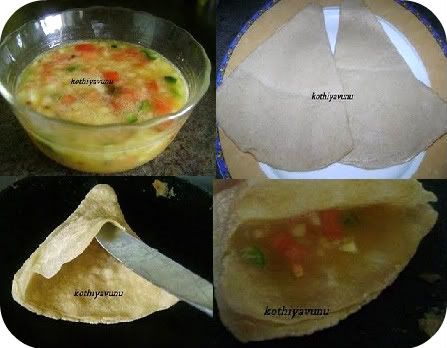 How to make Egg Paratha-Mutta Paratha-Anda Paratha | Indian Flatbread stuffed with Egg :
1. Beat eggs and mix all of the above ingredients and keep aside.
2. Roll the dough it into thick circles using a rolling pin. Dust the balls into dry flour to prevent it from sticking to surface while rolling.
3. Roll each ball into a small circle; spread oil onto half of the circle.
4. Fold the circle into a semi-circle; spread oil onto 1/2 of the semi-circle.
5. Again fold semi-circle into half to form a triangle.Dip into dry flour once more and roll triangle out into paratha.
6. Heat a griddle/tava and add oil to it. See the fumes coming out of it then place the paratha for cooking on the griddle or tava. Do the first flip when you see tiny bubbles rise on the surface of the paratha.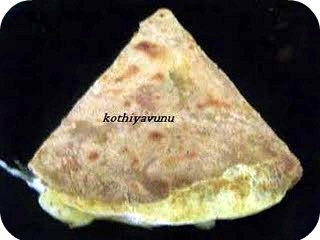 7. Wait another 20-30 seconds until it starts to puff up. With a butter knife, gently open up the top layer of the triangle to form a pocket.
8. Pour in approx. 1/2 egg worth of mixture into the pocket and close it.
9. Reduce the flame and cook for 10-20 seconds and gently flip to other side. Cook,pressing slightly till the raw egg is cooked.
10. Serve hot with yogurt,pickle or any curry of your choice..Enjoy!
Click here for more Indian Breads.
Happy cooking!
Sangeetha