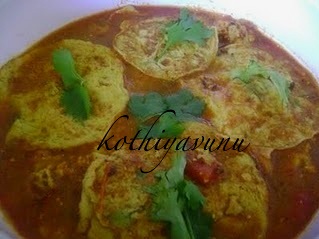 Mutta Omelette Curry Recipe – Egg Omelette Curry Recipe


Ingredients:
Eggs : 4 nos
Milk : 1/2 cup
Cilantro /Coriander leaves : 2 sprig (finely chopped)
Green chilli : 3-4 (finely chopped)
Jeera/Cumin : 1/2 tsp
Mustard seeds :1tsp
Cloves : 4 nos
Black Cardamom : 1
Green Cardamom : 2
Cinnamon : 1 inch piece
Ginger Garlic paste : 1 tbsp
Mustard paste : 2 tbsp
Turmeric powder : 1/2 tsp
Cumin powder : 1 tsp
Coriander powder : 1 tsp
Red Chilli powder : 1 tsp
Garam masala powder : 1 tsp
Tandoori masala powder : 1 tsp (optional)
Tomato : 1 no medium (chopped or pureed)
Ghee : 1 tsp
Fresh cream : 1 tbsp
Oil as required.
Salt to taste
Boiled Water : 2 cups
How to make Egg- Mutta Omelette Curry – Omellete Curry :
1. Beat the eggs with salt, milk, half of chopped coriander leaves and green chilly.
2. Heat the oil in a frying pan, when the oil is hot, make small omelette's with the beaten egg or make 1 big omelette's and cut them into 1 inch squares pieces.
3. Heat the oil, add cumin seeds when its begins to splutter, add the whole garam masala.
4. Add the ginger garlic paste, mustard paste, and all the powdered masala; sauté for couple of minutes.
5. Add the tomato and sauté everything till tomato are soft and mushy now add the omelette's.
6. Pour ghee and boiled water to it and bring it to boil. Add fresh cream and stir.Remove from the fire.
7. Garnish with some coriander leaves .Serve warm with rice or any Indian Bread and Enjoy!
For more Egg recipes check here
Happy Cooking!
Sangeetha