Have tried making Tomato Puree?
I always have stock of homemade tomato puree ready in my fridge/freezer coz I use tomato puree often instead of chopped tomatoes.Tomato puree can used in variety of dishes and it serve as a base for assorted meals, whether be Indian curries/subzis, soups, sauce, pizzas, pastas, etc, it simply adds flavor to dishes. Needless to say it's very to easy to make, we can jazz up almost anything with just a cup of that. Tomato puree is different than tomato paste or tomato sauce it is not as thick as tomato paste and it doesn't have extra ingredients that are usually found in tomato sauce.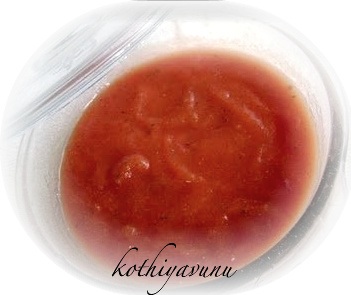 While tomato puree can be got easily from the shops, it is always advisable and best to make at home as that obviously is a healthy option. The store bought tomato puree contains lot of preservatives, artificial food colors, etc which is really bad for our health. So I strongly recommend you to make at home especially since it is really an easy affair. So why are you all waiting? make and stock tomato puree in your refrigerator and see how easy to whip up any dish of your choice within minutes. Enjoy!
Homemade Tomato Puree Recipe
Preparation Time : 10 mins
Cooking Time : 15 mins
Makes : 1 cup
Ingredient :
Ripe Tomatoes : 4 to 5 medium sized
Olive oil : 2 tsp
Bay leaves : 1 leaves
Cardamom : 1
Sugar : 1/4 tsp (optional)
Salt – 1/8 tsp (optional)
Vinegar : 1/4 tsp
(When you want to make in bulk : Makes 3-4 cups
Ripe Tomatoes : 2.2 lb /1 kg
Water : 4 cups /1 ltr
Olive oil : 2 tbsp
Bay Leaves : 4 leaves
Cardamom : 2 pods
Salt : 1/2 tbsp (optional)
Sugar : 2 tbsp (optional)
Vinegar : 1/2 cup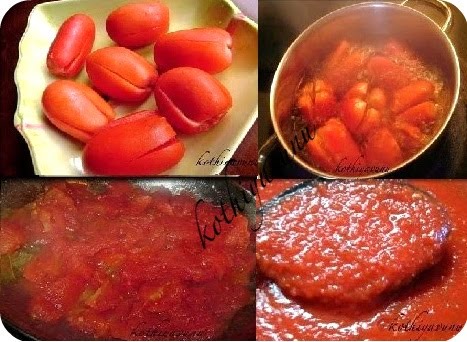 How to make Tomato Puree – Homemade Tomato Puree :
1. Select nice red colored ripe tomato. and cut the top slice from the stem side of the tomatoes. Give a cross cut only on the skin of other side of the tomatoes.
2. Boil water in a big pan, when the water starts to boil, put all the tomatoes in the water and leave for 5 minutes. Switch the heat off and cover the pot, let it stand for another 2 minutes.
3. Remove the tomatoes from the hot water and put them in a pot with cold water and leave it for 5 minutes.
4. Chop the tomatoes in half and remove the seeds and the juice part.
5. In a pan add bay leaves, cardamom and chopped tomatoes, saute and cook for 2-3 minutes.
6. Remove from the heat let it cool, put the cooked chopped tomatoes in the blender and make into puree.You will get a thicker puree.
7. In a saucepan, add the olive oil and boil the puree with salt and sugar (if you are adding).You can even stop with this step and store.
8. Add vinegar and allow it to boil in simmer it for about 30 – 45 minutes on a medium flame till it reaches its desired thick consistency, stirring occasionally. Though boiling (after the puree is made) is optional it helps in shelf life of the tomato puree. Allow the puree to cool down completely.
9. Strain through a strainer and store the puree in clean bottle or in zip log bag in the fridge to later use. The other way is to pour the puree in icecube trays and freeze it.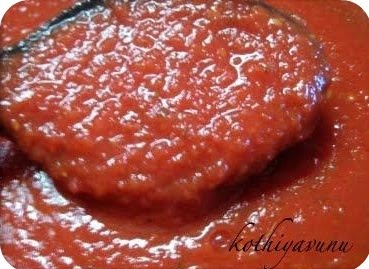 Notes :
If you want u can use the seeds and juicy portion of the tomatoes then omit the step 4.
The puree without seed and juicy portion will be darker red than the one with the seeds.
You can store refrigerate this for upto 2 weeks.Use clean spoon everytime.
You can skip adding bayleaves and cardamom if you don't perfer. Adding them will give the puree a boost of flavor.
Check here for more How-To
Cheers!
Sangeetha