How do you like to eat Idli,Dosa with Chuntey, Sambar or Idli-Dosa Podi -Chutney Powder? I raise my hands for Idli podi. Yes, I love the combination  Idli with Podi. So today post is dedicated to all Idli-Dosa Podi -Chutney powder fans like me.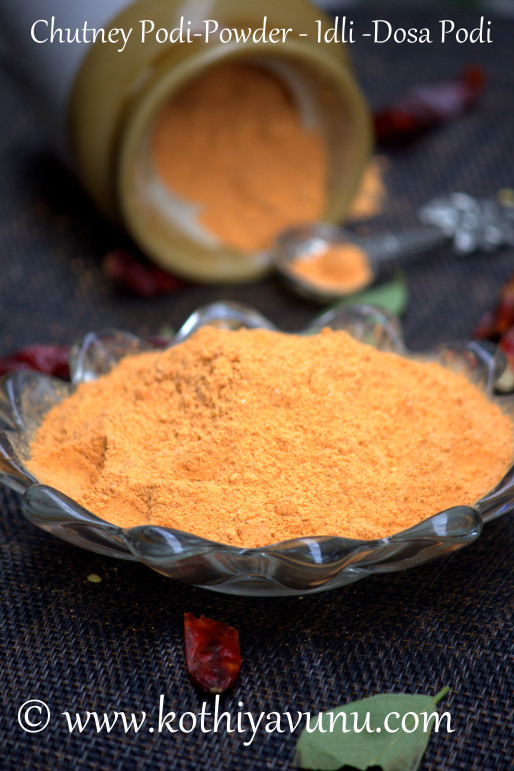 Chutney Powder-Idli Dosa Podi are a part of Indian cuisine. Its served along with the breakfast dishes or even with hot plain steamed rice. This idli podi recipes is a healthy time-saver and always in stock in almost all the houses in South India. They don't vary much from state to state, but there are always a few tweaks here and there.
Idli-Dosa Podi is also called as milagai podi or malgapodi in Tamilnadu. We call this dry chutney powder as podi or dosha podi in our home. In my home town we have tweaked version of this podi-powder called chammandi podi. Today I'm sharing Tamilnadu style chutney podi which is little different from our Kerala chammanthi podi.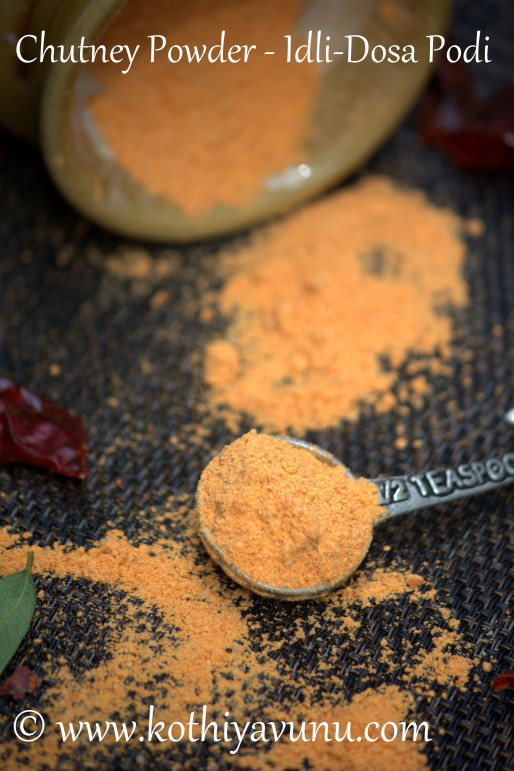 This idli podi recipe is made with roasted lentil and spices  and very handy dish which you can serve with Idli, Dosa, Ada dosa, etc. The chuntey powder-podi mixed with sesame oil or coconut oil  gives uniuqe taste. If you haven't tried yet, I highly recommend you give it try.
Other Spice Powder Recipes You Might Also Like:
How to make Idli-Dosa Podi -Chutney Powder-Pudi – Milagai Podi :
Idli Dosa Podi - Chutney Powder Recipe
Cuisine:
Indian, Kerala, Tamilnadu
Ingredients :
Urad dal (Uzhunnu/Ulutham parippu) : 1 cup
Channa daal (Kadala parippu) : 2 tbsp
Whole coriander seeds (Dhania/malli podi) : ¼ cup
Dry Red Chillies : 10-15 nos
Mustard Seeds : 1 tsp
Garlic : 3 cloves (optional, but highly recommended)
Curry Leaves : 2 sprig
Asafoetida (hing/perungaayam/kaayam) : 1 tsp
Salt to taste
Seasame Oil : ½ tsp
How to Make :
Heat the oil in a pan and add the dal, coriander seeds, and curry leaves. Roast until the dal begins to turn a darker shade of brown.
Add the red chillies and keep roasting on low flame until the dal turns a golden brown. Keep stirring and don't let it burn. (Note : It's up to you to decide how dark you want it to roasts.My mom roast it until a deep golden brown.)
Now add the garlic cloves (if using) and raost it for a minute or so.Switch off flame when done, remove the pan from fire, and add the hing, salt. Mix well and set aside to cool completely in the same pan.
Once cool, ground it to fine powder and store in an airtight container.(Note : The consistency of the powder is your choice. You can grind it either coarse or fine but we grind it fine.) Mix them with gingely oil or coconut oil and serve with Idli or Dosa, Enjoy!
Notes
Adjust the quantity of red chillies to suit your spice level.
Do not to over-roast red chilli. Always keep the fire on low and keep stirring continuously.
The consistency of the powder is your choice. You can grind it either coarse or fine but traditionally it is fine.
After grinding, allow the powder to cool and then store in an airtight container.
Keeps well at room temperature for up to 2-3 months. I keep it for longer in the refrigeratore.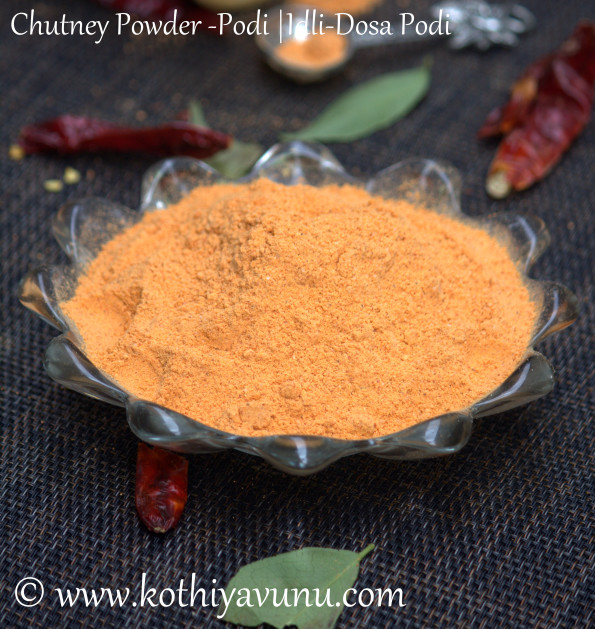 Hope you will try this Chutney pudi -Idli Podi recipe and let me know how it turned out for you…Enjoy!
Good Day All!
Like this Recipe? Sign up, and get more recipes delivered directly to your inbox.