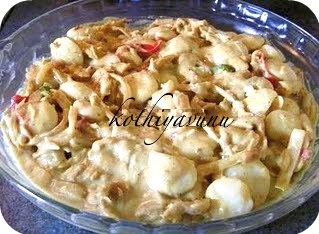 Kozhi Pidi Recipe aka Kozhi Thikidi Recipe – Kanjirapally Style /Rice Dumplings in Meat Gravy

Ingredients :


For Pidi:
Rice flour /Aripodi : 1 cup or 250 grms (lightly roasted)
Boiling water : 11/2 cups
Salt to taste
Coconut Milk : 2 cup or extracted from one coconut.
Turmeric powder : 1/2 tsp
Gram Masala Powder : 1 tsp
Coconut oil : 3 tsp
Shallots/Pearl Onion/Small Red Onion : 8 nos (sliced)
Curry leaves : 1 sprig
For Chicken/Kozhi Masala :
Boneless Chicken Pieces : 1 cup
Turmeric powder : 1/4 tsp
Red chilly powder : 1 tsp
Gram masala powder : 1 tsp
Curry leaves : 1 spirg
Coconut oil : 2 tsp
Small Red Onion/Shallots /Pearl Onion : 11/2 cup or Onion 1 (medium sliced)
Tomato : 1 (medium sliced)
Green Chilly : 2-3
How to make Kozhi Pidi -Kozhi Thikidi :
To Make Piddi/Thikidi :
1. Boil water, add salt and pour the rice flour little by little and mix well.
2. Use a spoon to blend everything well (it should not be watery) and when it is warm enough knead gently like smoother version of chappati dough or like idiyappam dough.
3. Cover the dough and keep aside for 10 minutes.
4. Wet your palms roll the whole dough in your hand to make it smooth.
5. Make tiny balls from this dough and press the ball little in centre with your palm.
6. Add pinch of turmeric powder,gram masala powder and salt to taste in coconut milk and keep it aside.
7. Heat a large vessel pour the coconut oil,add curry leaves, sliced small onion and saute it for a minute.
8. Pour coconut milk and allow it to boil, reduce the flame to low.
9. When its done, drop dumplings (tiny rice balls)one by one into the coconut milk and stir continuously (Note : Be careful, while stirring the rice balls, it should not smashed).
10. After 5-10 mins you get thick sauce, remove and keep it aside.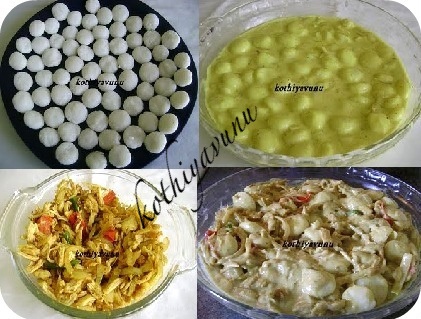 To Make Chicken Masala :
1. Pressure cook the chicken pieces with little turmeric powder,salt and cook for 2 whistles, remove the pressure and let it cool.
2. Shred the boiled chicken pieces with hands and keep it aside.
3. Heat the kadai with coconut oil,when its hot add sliced onions,silted green chilly, sliced tomato, turmeric powder, salt to taste and saute it for 2minutes.
4. Add shredded chicken into it (if needed add little oil) and add green chilly, gram masala powders,curry leaves and saute well.
Final Cooking for Kozhi Piddi:
1. Mix the kozhi masala with Piddi now kozhi pidi /thikidi is ready
2. Serve hot and enjoy.
Click here for more Chicken recipes
Happy Cooking!
Sangeetha