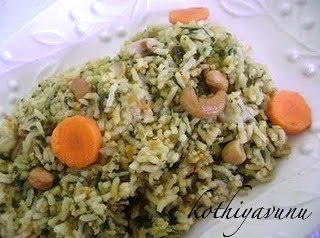 Spinach Rice Recipe – Spinach Pulao Recipe – Palak Pulao Recipe
Preparation Time : 30 mins
Cooking Time : 30 mins
Serves 2-3
Ingredients:
Basmati rice : 1 cup
Spinach : 2 cups (packed) /1 bunch,(finely,chopped)
Carrots : 2 nos, small (grated)
Mushroom : 5 nos (medium, diced)
Green Chillies : 2 nos
Onion : 1 no (medium, finely sliced)
Olive oil : 2 tbsp
Fennel seeds : 1 tsp
Black Cardamom : 1 no
Cinnamon Stick : 1″ piece
Cloves : 2 nos
Green Cardamom : 2 nos
Bay Leaf : 1
Water : 2 cups
Red Chili Powder : 1 tsp or to taste
Salt to taste
For Garnishing :
Ghee : 2 tbsp
Cashews nuts : 15-20 nos.


How to make Spinach Rice – Pulao | Palak Pulao-Rice – Microwave Version :
1. Wash and soak the basmati rice for 1/2 hour.
2. In a microwave-safe dish,add oil, fennel seeds, sliced onions, big cardamom, cinnamon stick, green cardamom, bay leaf and cloves, combine well and uncover the dish and microwave it for 4 mins.
3. Add in the chopped spinach,grated carrots,sliced mushroom, slited green chillies. and combine well and microwave for another 4mins, uncovered.
4. Drain and add the rice to the bowl.Add salt,red chili powder and 2 cups water,mix well and cover the dish and cook for 20 minutes, stirring occasionally,Stir once after 5 min.(Note : Cooking time may vary depending on microwave so adjust the timing accordingly).
5. Let the rice stand for a few minutes,fluff it up with a fork.
6. Fry the cahewnut in ghee and garnish to spinach pulav. Serve hot with Raita or Pickle and Enjoy!
For more Rice recipes check here
Cheers!
Sangeetha