Moru Curry /Moru Kachiyathu /Seasoned Buttermilk is a simple curry prepared very frequently in most of the houses in Kerala. A curry made with curd is soothing to the stomach and helps in digestion.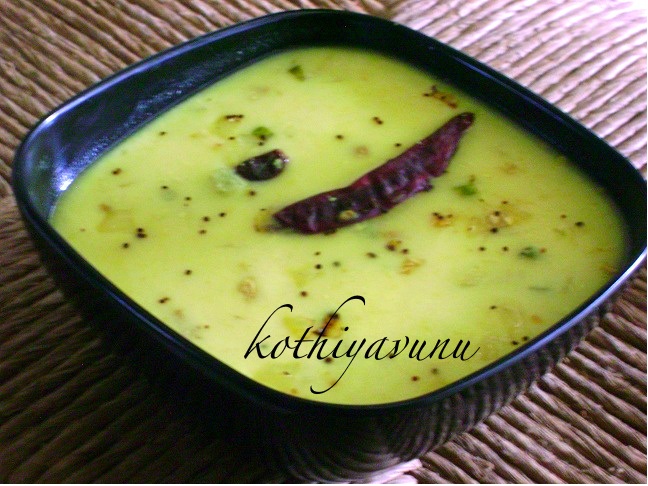 This is my mom's all famous curry. It comes together fairly quickly and is one of my favorites. Like all mothers do, my mom's make this often, it's a nice combination that goes well with white rice.There are many variations to this curry. The shallots, fenugreek, ginger, turmeric, curry leaves along with yogurt makes a fantastic combo. It also freezes beautifully for those nights that you're just too tired to cook. I'm sure that just a few mom's I know can relate to that.
Do try and Enjoy this simple and delicious curry !
Recipe for Moru Curry /Moru Kachiyathu /Seasoned Butter Milk
Ingredients :

Buttermilk /Beaten Sour Curd : 500 ml /1/2 lb (room temperature)
Ginger : 2 tsp (finely, chopped)
Shallots/Small onion : 2 nos (chopped)
Green chili : 3-4 or to taste (chopped)
Dry red chili : 2 nos
Turmeric powder : 1/2 tsp
Mustard : 1/2 tsp
Fenugreek : 1/4 tsp
Curry leaves : 1-2 sprig
Salt to taste
Coconut Oil /Cooking Oil : 1 tbsp or to temper the ingredients
Method of Preparation:
1. Mix the curd well to make it smooth. If you want add water as much you want.
2. Add water a little at a time blending it to keep it smooth
3. Heat oil in a pan & splutter mustard & fenugreek seeds.
4. Add dry red chili, chopped small onion, green chillies, chopped ginger, curry leaves, saute it for a minute.
5. Add turmeric powder & salt.Mix well.
6. Add buttermilk or well beaten sour curd and mix well.
7. Keep it on medium-low heat with continuous stirring till the mix foams up and rises again (Note : But never to the point of boiling) if it boils the whole dish is ruined ,it has to be carefully done. It will take around 5-7 minutes.
8. Removing from fire, stir for a few more minutes.Serve with rice and Enjoy!
Notes :
Use sour curd to get the right taste. It can be refrigerated for 3 days.
The buttermilk should be at room temperature, otherwise it may curdle.
To avoid curdling keep stirring continuously in one direction.
Good Day All!
Sangeetha