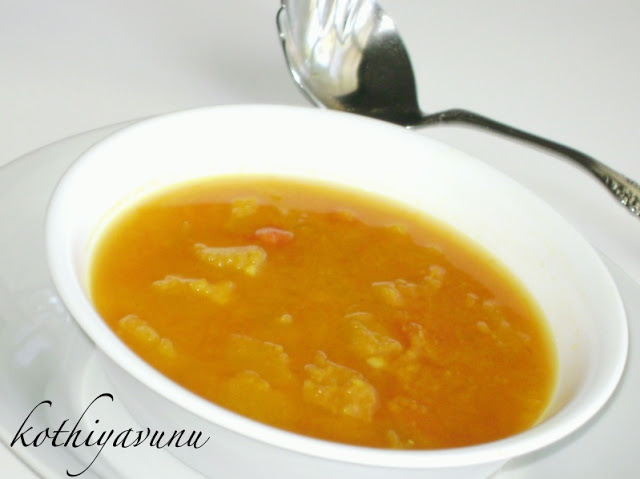 Mulakushyam – Moloshyam Recipe – Kerala Palakkad Style | Lentil & Vegetables in Coconut Gravy


Ingredients :
Cucumber : 1 cup (diced)
Tomato : 1 no (cubed)
Toor Dal : 1/2 cup
Turmeric powder : 1/2 tsp
Red chilli powder : 1/2 tsp
For Grinding :
Grated coconut : 1/2 cup
Cumin seeds : 1/2 tsp
Salt to taste
For Garnishing :
Coconut oil : 1 tbsp
Curry Leaves : 1 sprig
How to make Mulakshyam – Moloshyam Recipe – Kerala Style :
1. Pressure cook toor daal,when its done;remove from the fire and settle down the pressure and keep it aside.
2. Grind grated coconut,cumin seeds with little water to a smooth paste and set it aside.
3. In a pan,add the diced cucumber, cubed tomatoes, turmeric powder, red chilli powder, salt with enough water and bring to boil. Cook till its done.
4. Add the cooked toor daal to vegetable pieces and allow to boil.
5. Add the coconut paste to the cooked dal vegetable mixture; mix well and bring to a boil, adjust the salt.
6. Remove from fire; Add the remaining curry leaves and sprinkle some coconut oil on the top of curry. Keep covered for 10 minutes, so that the curry absorbs all the flavors.
7. Yummy Mulakushyam is ready. Serve with rice & Enjoy!!
Variations :
After step 5, season the curry with mustard seeds, dry red chilli, curry leaves with coconut oil and add to the Mulakushyam.
Notes :
For this recipe i have used cucumber.This particular recipe is from Palakkad style and here i have used coconut, but in other parts of Kerala coconut is not used for Mulakshyam.
Other vegetables you can use for Mulakushyam :
Raw green plantains/Vazhakka,
Yam/Chena, Cucumber/Vellarikka,
Snake gourd/Podalanga,
Ash Gourd/Winter Melon/Kumbalanga,
Drum Sticks/Muringakkaya,
Raw Jackfruit/Idi Chakka
For more Gravies & Curries check here
Happy Cooking!
Sangeetha