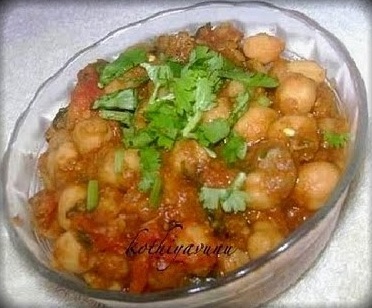 Recipe for Channa Masala / Chickpeas Curry


Ingredients:
Chickpeas /White channa /Vella kadala : 2 cups
Onions : 1 (medium, finely chopped)
Tomatoes : 2 big (finely, chopped)
Minced ginger and garlic :1 tbsp
Green chillies : 2 nos (chopped)
Turmeric Powder : 1/4 tsp
Red chilly powder : 1 tbsp
Coriander powder : 2 tbsp
Garama masala powder : 1 tsp
Kasoori Methi : 3/4 tsp
Black salt : a pinch (optional)
Dry mango powder : 1/2 tsp
Corainder leaves : 4 tbsp
Oil : 4 tbsp
Salt to taste
Method of Preparation:
1. Wash the chickpeas thoroughly and soak it overnight in a water.
2. Pressure cook it with enough water and salt until 3 whistles; Strain and keep aside.
3. Take 3 tbsp of the cooked chick peas and mash them to make a rough paste. (Note : This process will make the gravy thick)
4. Heat oil in a pan,add the chopped onions and saute untill it turns to translucent.
5. Reduce the flame to medium,add the minced ginger and garlic,green chilles and fry until the raw smell disappears.
6. Add the chilly powder,mango powder,coriander powder,turmeric powder and combine well.
7. Add the chopped tomato and cook unitll its turns to mushy.
8. Add the cooked chickpeas and the pasted chickpeas; add some water and adjust the salt if necessary.
9. Add garam masala,kasoori methi,black salt and combine well; Cook closed for another 15 minutes.
10. Garnish with coriander leaves. Serve with Batura,or with any Indian Bread and enjoy!!!
For more Gravies & Curries recipes click here
Now Comes the award
Thank you Sandhya (Sadhya's Kitchen) for nominating me/kothiyavunu for my first Kreative Award. It is a very pleasant movement for me. Of course like everyone else I believe the award is a motivation to perform better. So let me treat you all my friends with new mouthwatering recipes 🙂 Thank you again.

As per the rules, I hereby nominate 7 other blogger friends for this award. I'm sure some of you might have already received this award, but still like to nominate for your wonderful creativity. Congrats to every one!
Supriya of Cookinablogworld
Raje of Raje-s
Tina of Kaipunyam
Priya of Recipes-priya
Sailaja of Sailajakitchen
Priya of Priyaeasyntastyrecipes
Esai selvi mykitchenrecepies
Happy Blogging!
Sangeetha