When I saw Ney payasam posted in
Lakshmi blog
, I knew I wanted to give it a try. I have actually been wanting to try this for a while but since we were having a potluck party, so I waited for party to come. It was a super hit and everyone loved it.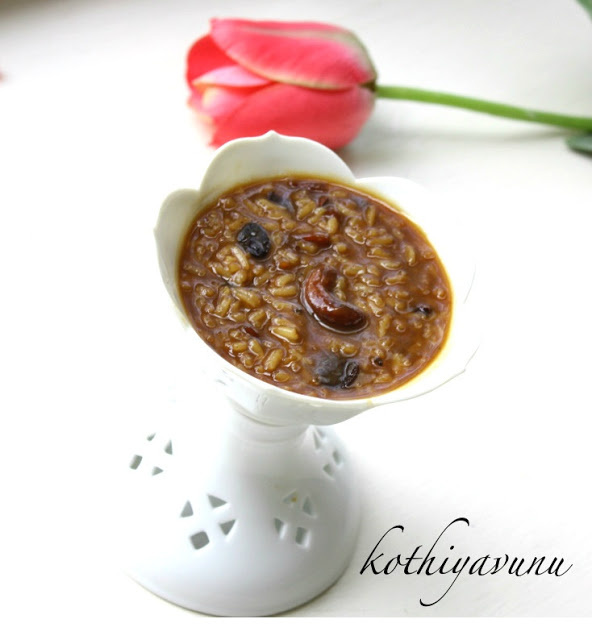 This is a traditional classic preparation from Kerala. It is main Prasadam / Nivedyam offering in temples of Kerala. It is made with rice, jaggery and ghee /clarified butter..
Trust me floks, you will surely love it. It is a must try!
Preparation Time : 45 mins
Cooking Time : 45 mins
Serves : 4

Ingredients :
Raw rice /Pachaari : 1 cup
Jaggery/Sharkara : 11/2 cup
Ney /Ghee/Clarified Butter : : 1/2 cup
Cashews /Kasuvandi Parippu :10-15
Raisins /Unakka Munthiri : 10
Cardamom Powder /Elakapodi : 1/2 tsp
Dry ginger powder /Chukku podi : 1/4 tsp
Grated Coconut /Thenga Chirakiyathu : 1/2 cup
How to make Ney-Nei Payasam -Sharkara Payasam:
1. Roast raw rice in low flame in a dry kadai for some time,and keep aside.
2. Clean jaggery powder and add one cups of water to jaggery and boil until it becomes a gel "paagu". Keep aside.
3. In a pressure-pan put the roasted rice, add two times water and cook for three whistles & ten minutes,the rice grains should be separated but cooked well. It should not be sticky.
4. Open and pour the melted ghee and again cook the rice in ghee for about 10 minutes.
5. Add in the jaggery gel and cook again for 10 minutes stirring constantly in low flame.This has to be cooked till the mixture leaves the sides of the vessel. Once the mixture leaves the sides of the pan, remove from the heat.
6. Add 1 tsp ghee in frying pan, add raisins,cashew and fry till golden. keep aside. Fry coconut in the same pan with 1 tsp ghee till coconut turns brown.
7. Add powder cardamom, powder dry ginger (chukku) to payasam.
8. Yummy Nei payasam is ready to serve! Enjoy!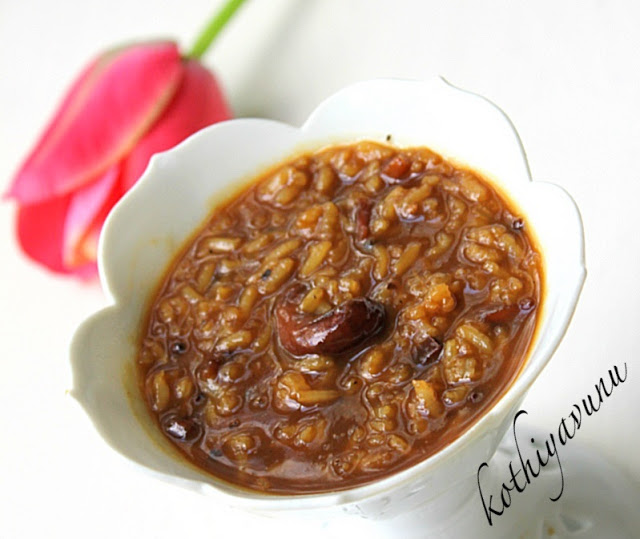 Related Posts :
Nenthra Pazham Pradhaman /Banana Payasam
Semiya Payasam /Vermicelli Dessert
Aval Payasam /Poha /Beaten Rice Flakes with Milk
Pal Payasam /Rice Kheer
Check here for more Dessert & Pudding recipes
Happy Cooking!
Sangeetha