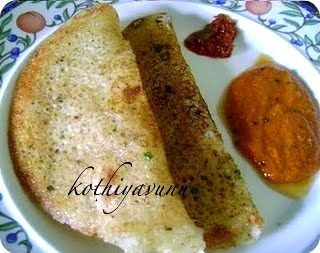 Recipe for Rava Dosa /Semolina Crepes /Pancakes
Preparation time : 30 minutes

Cooking time : 10 minutes

Makes : 10-12 Dosa' s (approx)


Ingredients :
Semolina /Sooji /Rava : 11/2 cup
Rice flour : 1/2 cup
Maida : 1/2 cup
Cumin Seeds : 1/2 tsp
Green chilly : 3-4 ( finely, chopped )
Whole Black Pepper Corns : 15 nos
Coriander leaves : 1 tsp (finely chopped)
Curry leaves :1sprig (finely, chopped)
Cashew nuts : 10 nos (halved)
Asafetida powder /Hing : one pinch
Ginger : 1 tsp (grated)
Water : 3 cup
Oil as required
Salt to taste


Method of Preparation :
1. Mix all the above ingredients except oil with adequate amount of water to make the batter, The batter should not be thick (like buttermilk consistency).
2. Let the batter sit for ½ to1 hour. It might thicken, So at the time of making dosa add more water, it should be pouring consistency.
3. Heat an iron tawa or non stick tawa on high for a minute and reduce heat; when it is hot smear 1/2 tsp of oil on the tawa with a clean cloth.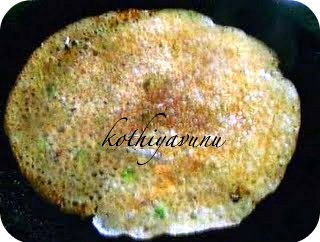 4. Pour a ladle full of dosa batter from the outward base to inside base of the tava in circular motion until the whole tawa is filled (Note : You have to keep on mixing the batter otherwise rava may settle down) combine well each time you pour the dosa batter over the tawa.
5. Drizzle few drops of oil around and on the dosa, spread it evenly and cook for 2-3 minutes on medium heat .
6. At this point increase flame to high and let the dosa roast, Now flip it to other side and cook for 2 minutes in low flame. Again adjust the flame to high and make remaining dosas. Serve hot with chutney or sambar and Enjoy!
Notes :
You can add chopped onion and grated coconut as well when mixing the batter.
Cast-iron tawa is best than a non stick tawa.
The batter can be stored in the refrigerator for 3-4 days.
Click here for more Dosa recipes.
Happy Cooking!
Sangeetha