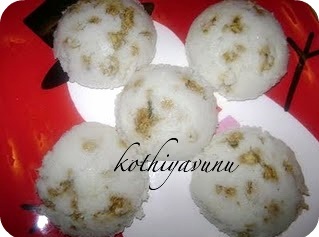 Recipe for Chicken Stuffed Idli


Ingredients:


Fermented idli batter : 2 cups
Chicken Pieces : 1 cup
Shallots/Pearl Onion : 1 cup(chopped)
Ginger : 4-5 pods
Garli : 1/2 inch piece
Green Chillies : 4 nos
Red chilly powder :1 tsp
Gram masala powder : 1 tsp
Pepper powder : 1/4 tsp
Cumin powder : 1/2 tsp
Turmeric powder : 2 pinch
Oil : 1 tbsp
Salt to taste
Method of Preparation :
For Chicken Masala :
1.Wash and clean the chicken with pinch of turmeric powder,drain it and mince the chicken in a food processor or in blender and keep it aside.
2. Grind ginger,garlic,green chillies into smooth paste.
3. Heat oil in a pan, when its hot reduce the flame to low and add the red chilly,turmeric,gram masala,cumin,black pepper powders and saute it well (Note : Be careful not to burn the spices).
4. Add grounded ginger,garlic,green chillies paste to it and saute it for a minute.
5. Add chopped shallots and saute till it turns to translucent.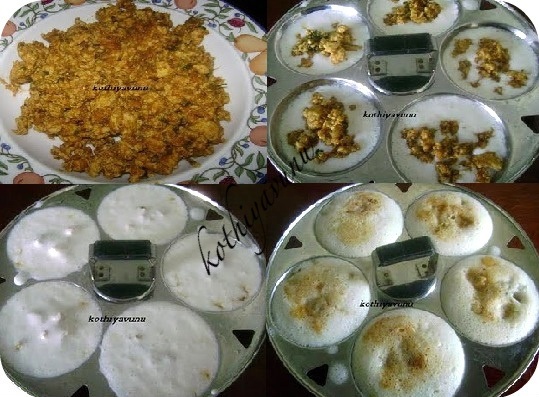 6. Add the minced chicken pieces and saute nicely till the moisture in the chicken comes out.
7. Add little water (if required) and close the kadai,let the chicken get cooked for 5 minutes until the oil separates, Now there will be enough water in the chicken to get cooked.
8. Adjust the salt and close the kadai in medium flame and cook for 8to10 minutes.
9. Check that the chicken pieces are cooked well, if not cook for some more time and remove it keep it aside, let it cool.
Preparation for stuffed idili :
1. Grease the idli stand with oil, pour a table spoon of idli batter.
2. Keep 1 tbl spoon of chicken masala on the batter.
3. Pour another tbl spoon of batter so that it covers the chicken masala.
4. Steam the idilis and remove carefully from the idli plates.
5. Serve them hot with chutneys, sambars or else can eat alone.
Click here for more Breakfast recipes
Happy Cooking!
Sangeetha