This is a simple, elegant,and delicious dish. It is a super easy recipe and great side dish for any sort of rice. Each one has a different variation on preparing this spicy potato fry, When you want big flavors on small budget, give this spicy potato cubes stir-fry recipe a try! Love this one with curd rice..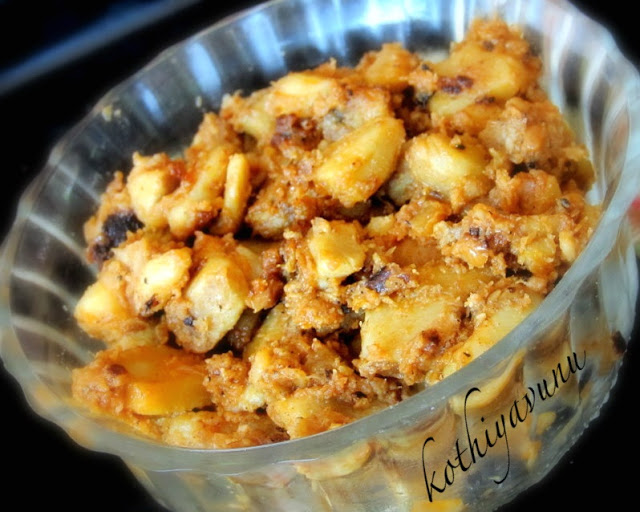 Urulakkizhangu Upperi- Mezhukkupuratti Recipe / Spicy Potato Fry Recipe


Ingredient :
Potatoes /Urulallizhangu : 4 nos (medium, peeled and cut into 1 inch cubes)
Shallots/Small Red Onion: 10-15 or onion : 1 small
Turmeric powder : 1/4 tsp
Red Chili Powder : 11/2 tsp or as needed
Curry leaves : 1 sprig (optional)
Oil : 2 tbsp
Salt to taste
How to make Urulakkizhangu upperi – Spicy Potato Fry :
1. Boil the potatoes with enough water and salt; when its done,smash the potatoes or chop it (as you wish) and keep it aside.
2. Heat oil in a wide pan. when its hot, add the shallots,curry leaves and saute until it turns to translucent and brown in color.
3. Add the cooked potatoes,turmeric powder, red chilly powder and combine well.
4. Fry the potatoes on low flame until they are well-browned on the outside.
5. Serve with curd rice or rice of ur choice & enjoy!
For more Vegetarian side dishes recipes click
here
Good Day All!
Sangeetha