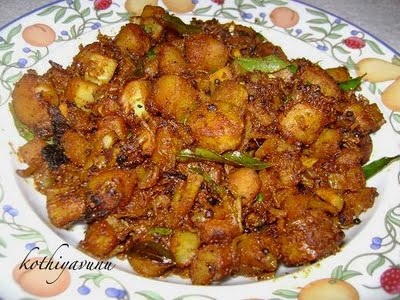 Ingredients:
Scallops : 1 lb
Red chilli powder : 2 tbsp or to your spice level
Turmeric powder : 1/2 tsp
Corainder powder : 1 tsp
Gram masala powder : 1/2 tsp
Ginger Garlic paste : 2 tsp
Mustard seed : 1/2 tsp
Shallots/Small onions : 15-20 (can substitute with 1 big onion) (finely sliced)
Curry leaves : 1 sprig
Oil : 2 tbsp (as required)
Salt to taste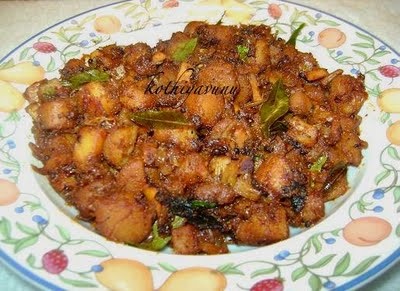 Method of Preparation:
1. Wash and marinate the scallop with turmeric,red chilly, coriander with salt for 30 minutes.
2. Heat the oil in a kadai, when its hot, add mustard seeds,when its starts to splutter add curry leaves and saute it for a minute.
3. Add sliced shallots and saute till turns to transulcent, add ginger garlic paste and combine and saute for 2 minutes.
4. Add marinated scallops and combine everything well.
5. Add 1/2cup of water, close and cook for 5 mintues and open the lid and combine well.
6. Fry the scallop until it turn to dry; garnish with chopped coriander leaves. Serve with steamed rice or with roti's…Enjoy!
Notes :
This is a very hot dish. Increase or decrease chilli powder and pepper powder as per your tolerance. Optional – To bring down the heat, substitute red chilli powder with kashmiri chilli powder or paprika.
For more Seafood recipes check here.
Good Day All!
Sangeetha