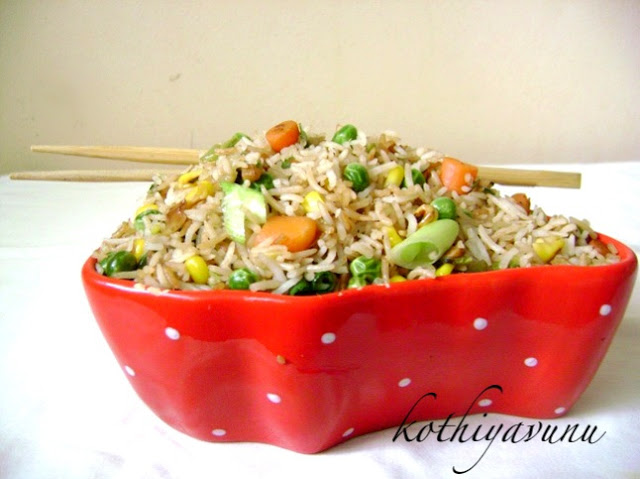 Preparation Time : 15 mins
Cooking Time : 15 mins
Serves : 4
Ingredients:
Basmati Rice /Long Grain Rice : 2 cups
Spring Onions : 2 stacks (finely chopped)
Capsicum : 1/2 cup (finely chopped)
Green Chilies : 2 nos (cut lengthwise)
Ginger : 1/2 tbsp (finely chopped)
Garlic : 1/2 tbsp (finely chopped)
Soya Sauce :1 tsp
Vegetables (carrots, cabbage and beans) : 1 cup (finely chopped) par boiled for 2 mins
Peas : 1/2 cup
Vinegar : 3/4 tbsp
Pepper powder : 1/4 tsp or as required
Salt to taste
Olive/Sesame oil : 11/2 tbsp
How to make Vegetable Fried Rice:
1. Clean and soak the rice for about 20 minutes. Drain the water and boil the rice with water and a pinch of salt and cook until almost done. Rice gets cooked in its own steam when left covered. So it is best to leave it slightly uncooked. When the rice is cooked, drain the water, add some cold water to it. Again drain it and keep aside. (Note : Do not overcook.Best using leftover rice, or day old rice (or) steam and cook the rice two hours before you cook fried rice)
2. Par boil the vegetables & peas for couple of mins and keep it aside.
4. Heat olive or sesame oil in a large pan, once the oil is hot, add chopped garlic,ginger,green chillies,spring onion whites and stir fry for minute on high.
5. Add the parboiled vegetables and toss them on high heat for 3-4 mins.
6. Add salt and pepper powder and combine well, cook on high for a mintue.
7. Add the cooked cold rice and combine well. Spread it all over the pan and leave on medium high for a minutes and mix well.
8. Add vinegar and soya sauce,toss everything on medium heat for a 2 mins.
9. Turn off flame. Garnish with chopped spring onion greens(green part) and serve hot and Enjoy!
Notes:
Try to use freshly ground black pepper.You can substitute black pepper powder with white pepper powder.
Be careful while adding salt because the sauces has salt in it too.
Secret to good results in fried rice is using leftover rice, or day old rice.Using leftover rice prevents the rice from sticking or becoming soggy.
Be liberal in adding olive oil.
Good Day All!
Sangeetha