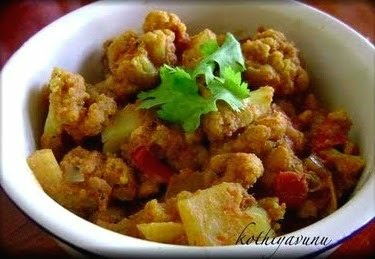 Recipe for Cauliflower /Gobi Masala

Ingredients :

Cauliflower Florets : 2 cups
Onions :1 (chopped)
Tomatoes : 2 (chopped)
Ginger-Garlic Paste : 1 tsp
Chilli Powder : 1 tsp
Coriander Powder : 1/2 tsp
Turmeric Powder : 1/2 tsp
Garam masala Powder : 1/2 tsp
Oil : 2 tbsp
Fennel seeds : 1/2 tsp
Cumin seeds : 1/2 tsp
Cinnamon : 1/2″ piece
Cardamom : 1 pod
Cloves : 1 no
Salt to taste
For Grinding:
Grated Coconut : 4 tbsp
Chopped Onion : 1 tbsp
Method of Preparation :
1. Soak cauliflower in salted water for 15 minutes.
2. Heat little oil in a pan,add grated coconut and chopped onions and saute well till coconuts turns to brown colour.When its done remove and and allow to cool.
3. Grind the fried coconut-onion mixture to smooth paste and keep it aside.
4. Heat oil in the pan,splutter the cumin,fennel seeds and all whole spices and saute for a minute.
5. Add ginger-garlic paste,chopped onions and saute well till the onion turns to transculent.
6. Add the chopped tomato and cook well, add the spice powders along with 1 tbsp of water and saute well.
7. Add the cauliflower florets and mix well and add ground coconut-onion paste,salt.
8. Add enough water,cover the lid and cook till cauliflower becomes soft and gravy thickens.
9. Garnish with coriander leaves and serve with any Indian breads.
Check here for more Vegetarian Side Dishes.
Now its award time
Thanks simple lifefor remembering and sharing award with me.Very encouraging to me……I am happy to receive this award from u ..Thank u very much


I would like to share with all my Fellow Bloggers and i think by this time all would have received this….any way I am passing it to people who has not yet received.
saju
sree
lakshmi & vidhya
collaborative curry
rashmi
priya
rohini
priya
kitchen queen
Happy Blogging!
Sangeetha