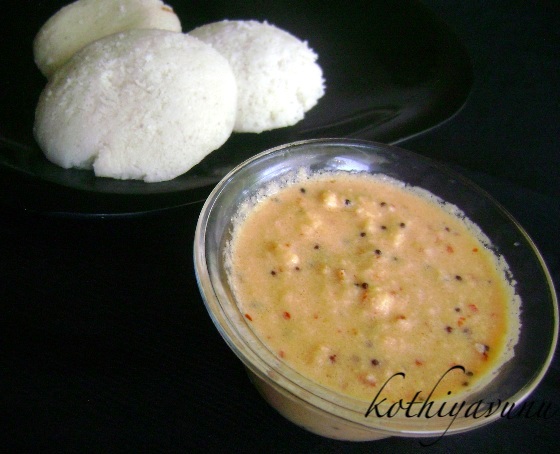 Recipe for Coconut Small Onion Chutney /Ulli Thenga Chutney


Ingredients :
For Grinding:
Coconut grated : 1 cup
Shallot /Small Red Onion : 2-3Green chillies : 2
Red chillies : 6 or to your tolerance level
Ginger : 1/2 inch piece
Salt to taste
For Seasoning:
Mustard : 1/2 tsp
Red chillies : 2 (broken into two)
Curry leaves : 1 sprig
Oil (Preferably Coconut oil) : 1 tbsp
Method of Preparation :
1. Grind all the ingredients listed under grinding, to a smooth paste.
2. Heat oil in a pan. Add the mustard seeds,dry red chilly and curry leaves.
3. Pour grounded mixture with enough water and salt into the pan and heat it in a low flame for couple of minute.(Don't let it boil), remove from the fire.
Check here for more Chutney recipes.
Now come the Award.
Some of my dear blogger friends have shared some awards with me….thanks a ton 🙂
You all made my day!!!!
Pari awarded me this with meme..I have been tagged before as well, So please view them here.

From Parsu,
Sandhya,Lakshmi&Vidhya

From Parsu,

From Lakshmi&Vidhya,Collaborative Curry

From Lakshmi&Vidhya,Sandhya

From priya,Parsu,
Sandhya,Lakshmi&Vidhya

From Collaborative Curry

From Lakshmi&Vidhya

It is a very pleasant movement for me…Thanks a ton to all my dear friends for remembering and sharing award with me.Very encouraging to me……I am happy to receive this award from u all..Thank u very much.
I would love to share this awards to all my blogger friends because I love every one's blog.I request all my lovely friends to feel free to accept it and post it in your blog and share it with ur friends.
Here comes award from Sanjana,Saju with Tag and some rules.
Rules of the award:
1.You must thank the person who has given you the award.
2.Copy the logo and place it on your blog.
3.Link to the person who has nominated you for the award.
4.Name 7 things about yourself that people might find interesting.
5.Nominate 7 other Kreativ Bloggers.
6.Post links to the 7 blogs you nominate.
7.Leave a comment in the nominated blogs to let them know they have been nominated.
Thank u Sanjana,Sajufor remembering and nominating me.Its very motivating….
Seven things about themselves. So here goes…
1. I am very friendly and same time very sensitive.
2. I give respect to everyone who deserves and Hate arrogant and selfish.
3. I love shopping, but it takes very long… time for me to finally choose.
4. I love cooking,Gardening and Listening to Music (Rarely see me without my ipod. Music gives me so much happiness that I forget everything (past/present/future)) 🙂
5.My family is my best gift. Thanking GOD for this wonderful gift.I miss my DAD a lot…Why did GOD called him so early. I believe Life is irreversible, so use every movement of life to love your family as much.
6. For me, the scariest thing in this world is Snakes.
7. I love to travel; see new culture, new people, new places.So amazing isn't it.
I would like to pass this award to
orphan
padhu
ushnish gosh
esai selvi
vaishnavi
akshay
rashmi
Once Again I thank everybody for all the appreciations and encouragements…:)
Happy blogging!
Sangeetha