Do you use Biryani Masala Powder in Biryani?  if yes, what do you use store-bought or homemade?
Biryani is  one of the most favorite dish for many people and it is one of the most popular post in this humble space. Most of my biryani recipes call for biryani masala powder, so today am gonna discuss about how to make this aromatic powder at home using whole spices, this will definitely come handy when preparing biryani.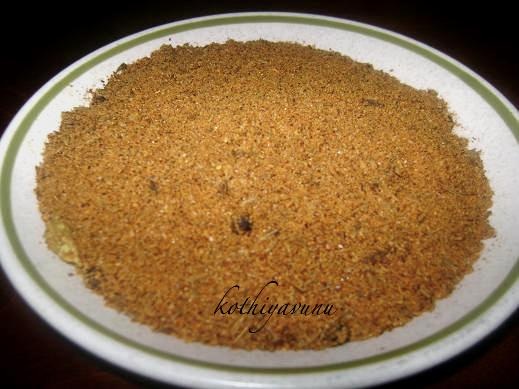 Being a huge fan of
biryani,
I always stock this masala in my pantry. If you are like me then try this recipe and have it handy. Here I have used whole spices, lightly roasted  and powdered which makes the masala powder smell divine. The blend is similar to garam masala and can be prepared easily at home, So why go for store-bought ones? Just gather all spices, and dry roast and grind to get the most flavorful masala, then store in air-tight containers and use when needed 1 to 11/2 tsp per cup of rice makes a good aromatic
biryani
.
Other Spice -Masala Powder You Might Also Like :
How to make Biryani Masala Powder Recipe – Homemade Biryani Masala
Homemade Biryani Masala Powder Recipe
Biryani Masala is a blend of spice mix that is used to prepare aromatic biryani.
Ingredients :
Cinnamon sticks /Karopatta : 3 big long 1"pieces
Green Cardamom : 6-8 pods
Black Cardamom : 2 pods
Cloves /Karambu : 8-10 nos
Shajeera /Caraway seeds : 1½ tsp
Fennel seeds/Perinjeerakam/Sombu : 1½ tsp
Bay Leaves : 1
Star Anise : 2
Nutmeg /Jathika : ½ or grated nutmeg : ½ tsp
Mace /Jathipathri : 6
How to Make :
Dry roast the spices each seperately on low flame and allow them to cool.
Mix everything together and grind to fine powder; sieve and store in a dry clean airtight container.
Notes
Always store in a dry clean airtight container to increase its shelf life. Do not leave it open the aroma will easily get lost.
Roasting are done to bring out the aroma of the spices and to prevent the masala powder from getting spoil.
You can prepare this in bulk and store, but fresh masala taste too good.
If you haven't tried adding 
biryani masala powder
in
biryani's
then do try it and find out what all the fuss is about! Don't forget to let me know your opinion.
Happy Cooking!
Sangeetha
Like this Recipe? Sign up, and get more recipes delivered directly to your inbox.