Any one from South India can tell us how famous Puri/Poori and Potato masalas is. Puri /Poori is a common breakfast dish available in all south Indian Restaurants. Puri /Pooris are Indian bread – Puri /Poori dough is made with whole wheat flour, semolina,salt and and then deep fried till puffed and slightly crisp. To go with the poori, usually the best combo is potato masala, which is made with smashed potatoes along onions & spices.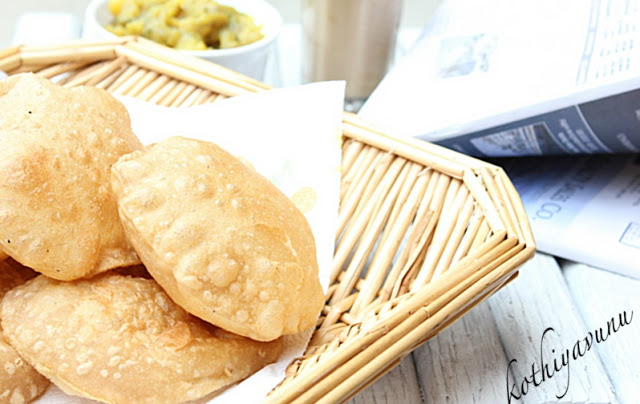 Leftovers can be used as a stuffing inside the samosa or as the breakfast sandwiches.The potato masala takes not more than 10-minutes and the pooris maybe 15 minutes.
This tasty breakfast is also called "Puri/Poori Masala or Poori kilangu Masala"and it isn't difficult to make – this easy breakfast will have you cooking and enjoying this heavenly treat in no time. Enjoy!!
Puri Recipe – Poori Recipe | Indian Deep Fried Wheat Flat Bread Recipe
Preparation Time : 20 mins

Cooking Time : 15-20 mins

Makes : 15-18

Ingredients :


Wheat Flour : 3 cups
Sooji /Rava /Semolina/Farina : 1 tsp
Oil : 1 tsp
Salt : 1/2 tsp
Water : 1 1/2 cup
Oil for frying : 2 cups or as needed
1. Mix the salt, rava/semolina into the flour.
2. Warm the oil, when medium warm mix well to incorporate all the oil into the flour.
3. Add a little warm water at a time to form a dough, knead well with hands or by food-processor.
4.Once the dough is made, smear a couple of drops of remaining oil coat it. (Note : Oil will help avoid forming a crust)
5. Cover and allow the dough to rest for about half hour or at least 10 minutes.
6. After half hour, knead the dough once again.
7. Divide the dough into balls approximately 1″ in diameter.
8. Flatten each ball and using oil for rolling, roll into discs approximately 4″ in diameter.
9. Heat the oil in a deep wok like pot, wait until it is hot to test the oil, drop a small piece of dough, if it is hot it will float up immediately bubbling as it comes up to the surface.
10. Now slowly slide the poori from the side of the pot into the hot oil.
11. Deep-fry the poori until golden brown. When it puffs up, turn it once on the other side. Fry for a minute and remove.
12.Serve hot as they are made with Potato Masala (Recipe below).

Notes :
Puri's /Poori's can be eaten with sweet as well as savory dishes.
Don't use wheat flour while rolling the dough, it leaves the black traces while frying and discolors the puri.
Dont over fry the poori for long time and make sure oil isn't too hot otherwise the skin would become dark and will not be cooked inside.
Potato Masala Recipe | Urulakkizhangu Masala Recipe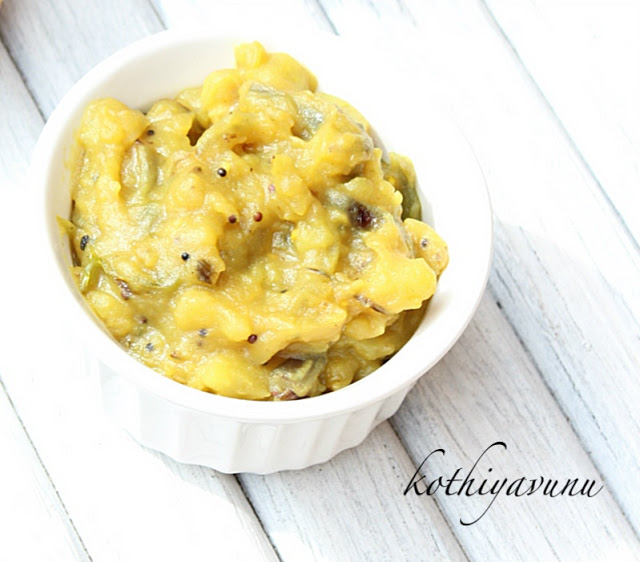 Potato Masala Recipe | Urulakkizhangu Masala Recipe
Preparation Time : 10 mins
Cooking Time : 10 mins
Serves : 4
Ingredients :
Potato : 3 nos
Onion : 1 large (thinly sliced)
Green Chili : 4 or to your spice level (finely sliced)
Ginger : 1 inch
Turmeric : 1/2 tspMustard : 1/4 tsp
Cashew nuts : 2 tbs (broken)
Curry Leaves : 1 sprigSalt to taste
Coriander Leaves : few for garnishing
Oil : 1 tsp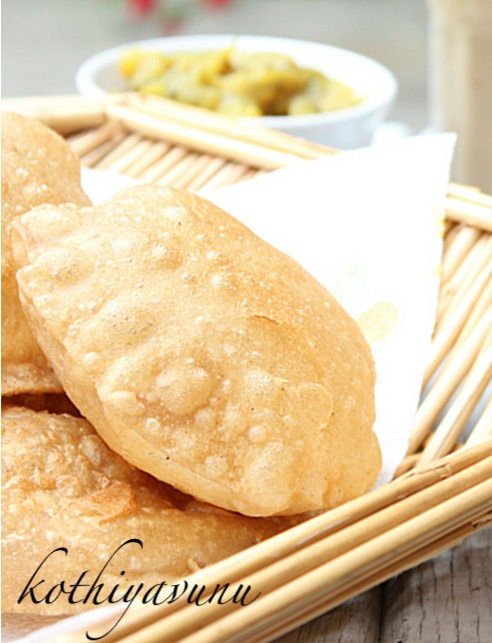 How to make Potato Masala | Urulakkizhangu Masala :
1. Pressure cook or microwave the potatoes and mash them.
2. Heat oil in a pan,add mustard seeds, when they splutter, add broken cashews, curry leaves and fry for a minute.
3. Add green chillies, ginger and chopped onions. Saute till the onions turn golden brown and now add turmeric powder and mix it well.
4. Now add the mashed potatoes and 1/4 a cup of water.
5. Add salt to taste. When it comes to a boil cover and cook it on a low flame for about 10 minutes.
6. Finally turn off the heat and garnish with chopped cilantro…Serve with Poori and Enjoy!
Notes :
If you want it rich, instead of water; add 1/4 cup of coconut milk or milk, while adding the potato.
Don't make it too watery as it wont't stick well with the poori.
Click here for more Indian Bread Recipes
Happy Cooking!
Sangeetha