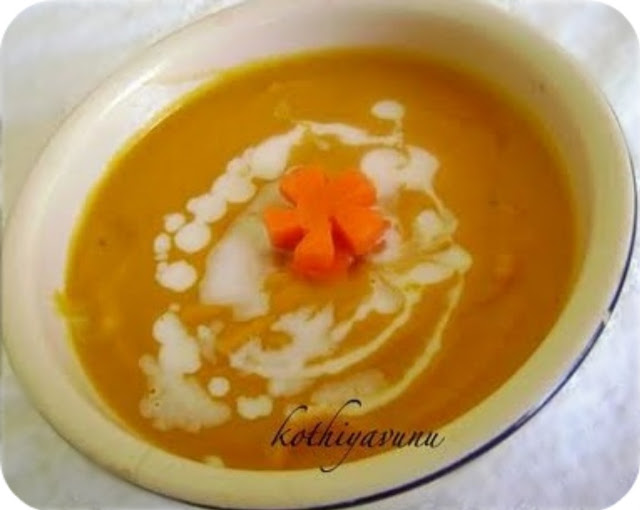 Carrot Ginger Coconut Milk Soup Recipe


Ingredients :
Carrots : 4 nos (peeled and chopped)
Onions : 1 (big,chopped)
Garlic : 2 cloves (minced)
Grated ginger : 3″piece or 2 tbsp
Cumin powder : 1/4 tsp
Fennel powder : 1/4 tsp
Black Pepper powder : 1 tsp
Vegetable Stock/Water : 4 cups
Coconut Milk : 1/4 cup
Fresh lemon juice : 2 tbsp
Olive Oil /Butter : 1 tbsp
Salt to taste
How to make Carrot Ginger Coconut Milk Soup :
1. In medium saucepan; add chopped carrots with vegetable stock pr water and bring to a boil.Cover and cook until the carrots are very tender.
2. Heat olive oil or butter, add the chopped onions and sauté till turns to translucent.
3. Add minced garlic and grated ginger, salt,fennel seeds ,cumin seed, pepper powders and saute well and cook on low fire for 8-10 mintues.
4. Add lime juice and mix well and add it to the carrots.
5. Use a blender to puree mixture until smooth.Add coconut milk and mix well. The soup will be really creamy and solid orange in color.
6. Top with a teaspoon of coconut milk. Serve and enjoy!
Check out the other Soup recipes
Have a good day!
Sangeetha