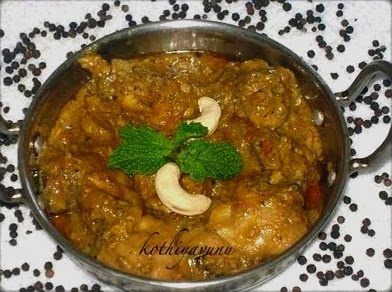 Recipe for Cashew Pepper Chicken


Ingredients:
Chicken : 1.5 lb /700 grms (cut into medium size pieces)
Onion : 2 cups (finely, chopped)
Tomato : 3/4 cup (finely, chopped)
Ginger : 1 tbs (grated)
Garlic : 4-5 cloves (grated)
Green chillies : 2-3 (slit)
Cashew nuts : 15-20 nos
Turmeric powder : 1/2 tsp
Coriander powder : 3 tbs
Crushed Black pepper : 2 tbs
Dry Kasury methy leaves : 3/4 tsp
Garam masala powder : 1 tsp
Oil : 3 tbsp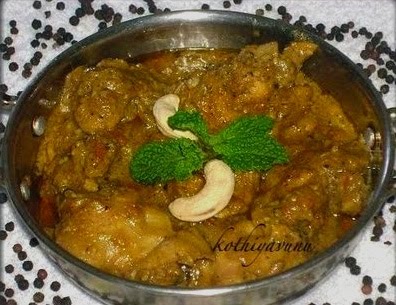 Method of Preparation :
1. Soak the cashew in 1/2 cup of water for 30 mintues and grind it to smooth paste.
2. Heat oil in a kadai/pan, add the chopped onions,salt and sauté until it turns to transculent.
3. Add the grated ginger,garlic,green chillies and sauté until the raw smell goes.
4. Add the crushed pepper,coriander,turmeric powder and sauté for 2 minutes.
5. Add the chopped tomatoes and cook until the tomatoes turns to soft.
6. Add the chicken,saute well and cook on medium flame until chicken is cooked.(if the gravy is getting dry then add 1/2-3/4 cup water)
7. Add the cashew paste,methy leaves and let it boil for 2-4 minutes.
8. Sprinkle the garam masala, close the lid and turn off the flame.
9. Serve warm with any Indian Breads .
Recipe Source : shabscuisine
Click here for more Chicken recipes.
Have a good day!
Sangeetha