Appam has a numerous variations like Palappam,Velayappam,Noolappam,Kallappam, Vatayappam and etc…Kallappam is one of the traditional recipe of Kerala.The traditional Kallappam is made with toddy as the fermenting agent. Instead of toddy I used yeast as fermenting agent.The names and recipes vary from region to region in Kerala…Here u go..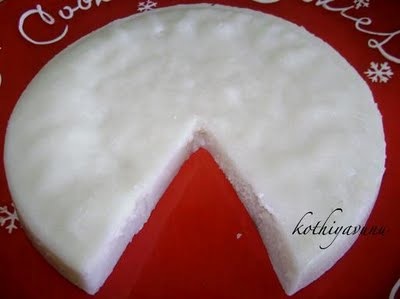 Recipe for Kallappam – Kerala -Thirssur Style /Pancake with Toddy


Ingredients:
White Rice/Raw Rice/Pacha Ari : 2 cups
Coconut water : 2 cups
Yeast : 1 tsp
Grated Coconut : 1cup
Sugar : 1/4 cup or to taste
Salt to taste
Baking soda : a pinch (Optional)
For Thari Kurkku/Cream of Rice :
Rice Flour /Cream of rice : 1/4 cup
Water : 1cup
Method of Preparation :
1. Add 2 tbsp of sugar in the coconut water and keep it aside for 10-12 hrs. (Add to the final mixture before leaving for fermentation).
2. Soak the rice in the water for 4-5hrs.
3. Grind the rice and grated coconut by adding required amount of water to fine paste and keep it aside.
4. Boil rice flour in 1 cup water till it thickens and reduces to 3/4 cup stirring continuously so that it yields a creamy consistency and set aside.
5. Stir in yeast with sugar to 1/4 cup of warm water for 10-15 minutes till its forth.
6. In a bowl add coconut rice paste,cream of rice and make a smooth soft batter.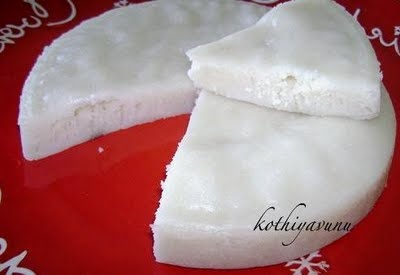 7. Pour the yeast over the rice and knead it well, add salt, coconut water and combine well. If necessary use more water,a little at a time.(Note : The consistency of the batter should be like idli batter).
8. Cover and set aside to ferment 6-8 hrs.
9. Now the batter should be ready for steaming, add pinch of baking soda (optional) and mix well.
10. Grease the stainless steel flat plate or idly mould with ghee and pour the half portion of batter to the plate.
11. Close and steam and cook for 20-30 minutes. When the kallappam is done, remove from the steamer and open lid to avoid moisture.
12. Allow the kallappam to cool. Cut into wedges and serve with Mutton Kurma,Chicken Curry or Potato Stew and enjoy!!!.
Notes:
In Traditional Kallappam toddy /kallu is used, Instead of toddy I used yeast in this recipe.
Related Posts:
Godhambu Vellayappam /Wheat Appam
Noolappam/Idiyappam
Velayappam
Cheers!
Sangeetha