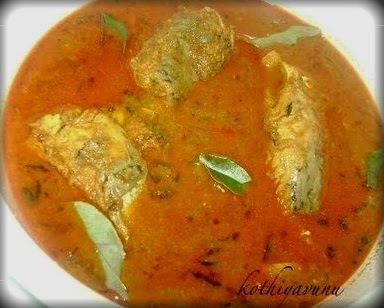 Recipe for Kerala Fish Curry /Meen Curry


Ingredients:
Seer Fish ( Ney meen) /King Fish ( Aiykoora) : 1/2 kg /1.1 lb (cut into pieces)
Kudampuli /Kukum star /Fish Tamarind : 2-3 pieces
Small Red Onions /Shallots : 6-8 nos (sliced)
Garlic : 5 cloves (chopped)
Ginger : 2 inch pieces (chopped)
Kashmiri Chilly powder : 1 tbsp
Red Chilly powder : 2 tbsp or to your spice level
Turmeric powder : 1/2 tsp
Fenugreek powder : 1/2 tsp
Coconut oil : 2 tbsp
Mustard seeds :1 tsp
Curry leaves : a sprig
Salt to taste
Method of Preparation:
1. Clean and wash the fish and drain off the excess water.
2. Wash the Kudampuli(fish tamarind)and cut them into small pieces and soak in 1/4 cup of water.
3. Heat a pan (preferably in 'Kalchatti' an earthen pot) on low flame.
4. Pour coconut oil and add mustard seeds,When it start splutter,add the sliced shallots and saute till turns to translucent & golden brown.
5. Add chopped garlic and chopped ginger,curry leaves and saute for a minute.
6. Add red chilly,turmeric,fenugreek powders and fry for a minute.
7. Add 2 cup of water,soaked kudampuli/fish tamarind with its water and allow to to boil.
8. Add fish pieces and cook for 20-30 minutes on low flame until the gravy thickens.
9. Remove from fire and garnish with curry leaves and keep covered for 10-15 minutes.
10. Serve hot with boiled rice or Kappa puzhukku/Mashed Tapioca & Enjoy!!
Notes:
For best result prepare the curry overnight and serve next day. It tastes Yummy!!
Check here for more Fish recipes.
Good Day All!
Sangeetha