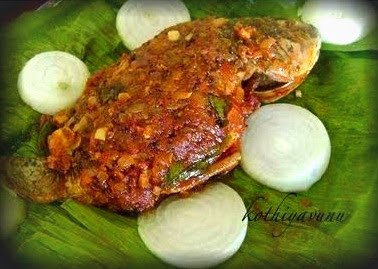 Meen Pollichathu Recipe | Fish in Banana Leaf Wrap

Ingredients :


For the Marinade:
Fish (Tilapia, Pearl spot, Pomfret, King fish, Salmon) : 1 no (Peferably karemeen/pearl spot,i have used tilapia)
Red chilly powder : 1 tsp
Turmeric Powder : 1/2 tsp
Lime juice : 1/2 tsp
Salt to taste
For the Gravy:
Shallots/Pearl onion : 10-15 (finely chopped)
Tomato : 1 small (finely chopped)
Red Chilly Powder : 2 tsp
Turmeric Powder : 1/2 tsp
Coriander Powder : 1 tsp
Green chilles : 2 (finely chopped)
Ginger : 1″piece (finely chopped)
Garlic : 4-5 pods (finely chopped)
Coconut oil : 1/2 tsp
Curry leaves : 1 sprig
Salt to taste


For the Wraps :
Banana Leaves coated with coconut oil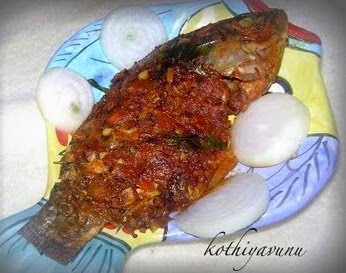 How to make Meen Pollichathu/Fish in Banana Leaf Wrap :
1. Clean the fish thoroughly, make deep slits in the fish for the marination to sink in.
2. Marinate with paste of red chilli turmeric, salt and lime juice for 1 hour.
3. Take a non stick pan; add little coconut oil, when its hot, add chopped shallots/pearl onion and saute until its translucent.
4. Add chopped garlic, chopped ginger,chopped green chillies, curry leaves and fry for a few mins now add chopped tomatoes and saute for 2 mins. Do not let the ingredients burn.
5. Immediately add all spice powders prepared for the gravy, add little salt, sprinkle little water and check taste for any additional seasoning; mix in thoroughly. Cool and keep it aside
6. Heat oil in pan and fry the fish filpping each side; its should be crisp fried,do not over cook and remove from fire.
7. Place the banana leaf over a large plate, you could use 2 leaves, one on top of each other.
8. Lightly smear coconut oil on the surface now scoop 1/2 of the cooked gravy on to the banana leaf and place the fish on top. Smear the remaining gravy on top of the fish.
9. Now make parcels of the fish inside the banana leaves, use a tooth pick to hold the leaves in place.
10. This parcel can either be steamed in idly plates in a cooker/steamer or lightly heated on a hot pan on low flame.
11. Serve with lime wedges and hot steamed rice and Enjoy!
Check here for more Fish recipes.
Happy Cooking!
Sangeetha